NFTs are making a comeback as ETH booms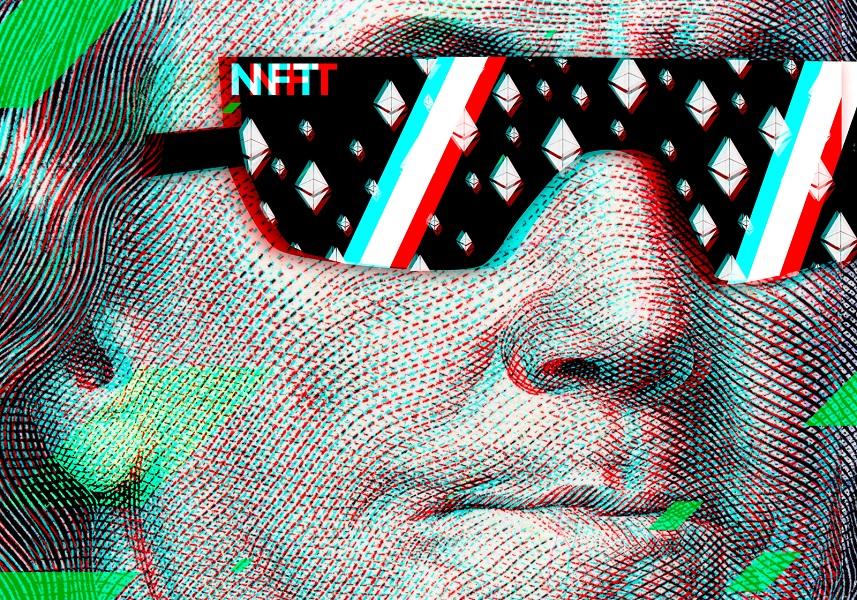 Non-fungible tokens, or NFTs, were the talk of the crypto community, the wider finance community and the art world earlier this year thanks to striking artworks, celebrity participation and eyebrow-raising sales prices. These elicited frantic headlines across the mainstream press that made the general public interested in what had previously been an obscure phenomenon: digital items that can be verified as unique on the blockchain.
The media buzz was driven by the $69-million sale of the digital artwork Everydays: The First 5000 Days by Beeple. It was the spearhead of NFT mania, with big-ticket digital tokens selling for millions of dollars. Meanwhile, an NFT representing the first-ever tweet by Jack Dorsey sold for a comparatively humble $3 million compared to Beeple's work, whereas blockchain collectables such as rare CryptoPunks sold for over $7 million.
The NFT feeding frenzy subsided during the summer, leading some to say that investors' interest in NFTs was a one-time event. But the market is proving them wrong. In fact, NFT trading has just hit new heights.
CoinDesk recently reported that the number of sales on OpenSea, the largest NFT marketplace, has surpassed the NFT craze seen in the spring multiple-fold. Daily sales hit over 60,000 tokens in the past week, almost eight times more than March's all-time high (source: Coin Metrics). Blockchain industry data tracking firm DappRadar also reported that trading volume on OpenSea was $1.22 billion over the last 30 days, a 933% increase over the previous 30-day period.
So, what exactly is being traded? So far, the current surge indicates the continued success of NFT collectables such as CryptoPunk (pixel art headshots with various fashion accessories), Bored Ape Yacht Club (similar to CryptoPunks, but the characters are apes) and Pudgy Penguins (take a guess!). Like limited-edition trading cards, these digital tokens can no longer be bought directly from the producers but are traded to the highest bidder on platforms such as OpenSea.
But even if trade in crypto-collectables is thriving, they don't garner the same public interest as Beeple or Jack Dorsey's NFTs. Global Google search activity for NFTs still ranks lower than in March, the height of NFT trending in the mainstream media.
What could this mean for crypto traders?
Even if they don't touch NFTs themselves, crypto traders should be aware of how the NFT market affects the cryptocurrency economy as a whole. Most NFTs reside on the Ethereum blockchain and are priced in Ether (ETH), the second cryptocurrency by market cap. A boom in the NFT market could drive up interest in ETH and, consequently, the value of the cryptocurrency. This is what appeared to happen in March when OpenSea sales increased alongside the price of ETH. But NFTs are only part of the Ethereum ecosystem. In May, ETH's price soared even as NFT sales slumped to dismal levels. So, a trader should consider all the aspects surrounding Ethereum, not just NFTs.
At the time of writing, ETH is up by over 65% over the last 30 days, outpacing Bitcoin in gains. This may be explained by the recent London hard fork, which improved efficiency and transaction fees on the Ethereum network when it went live on 5 August. With ETH's increased attractiveness to investors resulting from the fork combined with high NFT trading volume, we could see a pattern of increased confidence in and demand for Ether.
Trade ETH, BTC and more at the best rates with StormGain
Whether you're looking to trade ETH on the back of NFT success or investing in any cryptocurrency to increase your wealth, it's important to have the best tools for the job at your fingertips. StormGain provides exactly that: an all-in-one crypto trading platform with trading signals, analytics and charts built into an easy-to-use app. Trade over 65 different digital assets, including Bitcoin, 50+ altcoins, crypto indices and even tokenised stocks in Apple, Tesla and other tech giants. All this with the best features in the industry, including free Bitcoin rewards, loyalty bonuses for trading, up to 12% interest on your crypto holdings and a generous zero-commission profit-sharing model.
Not a StormGain user? Register now in just a few seconds and try the risk-free demo account to see how much you could make trading cryptocurrency with the best perks in the business!
Tags
Exchange BTC

Try our Bitcoin Cloud Miner and get additional crypto rewards based on your trading volume. It's immediately available upon registration.

Try our Bitcoin Cloud Miner and get additional crypto rewards based on your trading volume. It's immediately available upon registration.