Power to the people: why these developing markets lead in crypto adoption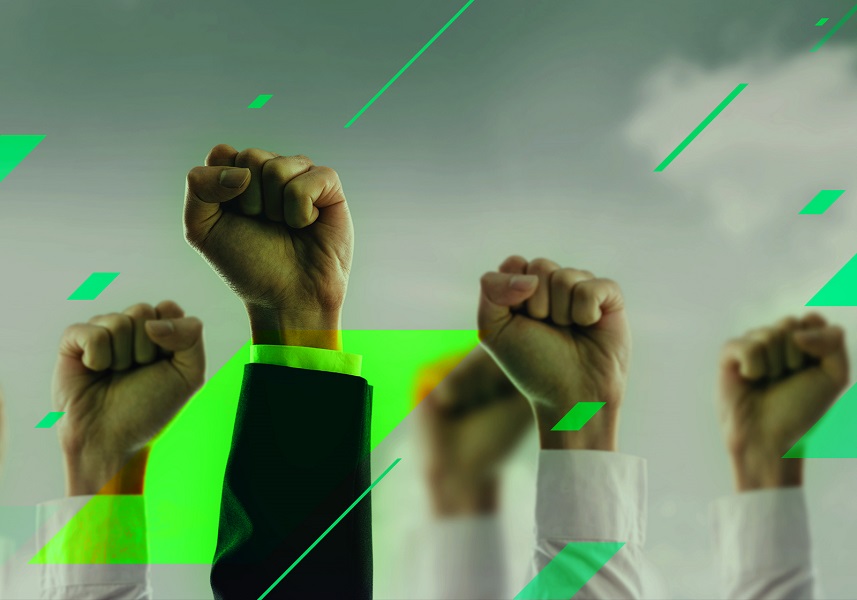 On Tuesday, Chainalysis published the 2020 edition of its Global Cryptocurrency Adoption Index, part of the blockchain analytic firm's upcoming report on global trends in the crypto world.
The index revealed that crypto usage is rapidly expanding in countries that are considered developing economies. Ukraine is the global leader when it comes to cryptocurrency adoption, with Russia and Venezuela coming in second and third, respectively. Then comes China in the fourth spot, followed by Kenya and the United States.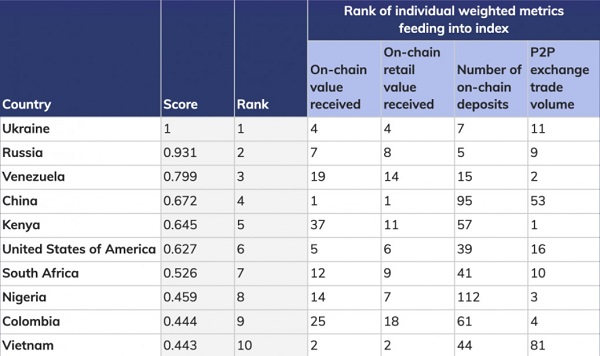 Source: Chainalysis
The index criteria in the report measure crypto adoption by looking at the on-chain cryptocurrency value received by a country, on-chain value transferred, the number of on-chain cryptocurrency deposits, and peer-to-peer exchange trade volume. These stats are weighted with the PPP (purchasing power parity) per capita and the number of internet users in each country.
How does a country like Ukraine end up ahead of the curve in digital currency compared to economic giants like the US and China? The top countries are mostly seeing growth among retail investors, whereas deep-pocketed "whales" dominate crypto in the US and China. The top nations all have different circumstances that encourage ordinary people of more modest means to use crypto, which is exactly what crypto needs to go mainstream.
Ukraine: an emerging market of digital natives
Ukraine, an Eastern European nation of 42 million people, is seeing the most significant adoption among retail investors. Ukraine is notable for its young, tech-savvy population, and its unstable economy, which sees bright and industrious young minds turn to cryptocurrency.
Ukraine has a thriving crypto startup scene, although companies are registered offshore, which muddies the official figures somewhat. For young people in Ukraine, with a fluctuating currency, no local stock market, and heavy fees on cross-border transactions, crypto provides a chance to build a future that works for them.
The Ukrainian government has noticed the vibrancy of its national blockchain scene and is working with startup leaders and entrepreneurs to regulate the industry and attract more investors through its Ministry for Digital Transformation. With government and private capital co-operating on this level, Ukraine looks like the place to be for blockchain and crypto developers.
Russia: moving money
Russia may come as a surprise second to some, given that the Russian government moved to ban cryptocurrency earlier this year via its infamous DFA (Digital Financial Assets) legislation. But that hasn't stopped Russian nationals from flocking to crypto for reasons similar to Ukrainians', even if the government is not as crypto-friendly as their neighbour is.
Electronic payment services have long been popular in Russia, especially in big cities, where they are seen as a safer and faster alternative to cash and credit cards. It's not a huge leap from digital transactions to purely digital currency.
Cryptocurrency is popular in Russia for expensive purchases like tech equipment, or for cross-border financial services and transactions to bypass onerous fees levied by banks and middlemen. Businesses with foreign interests, or just the need for privacy, have good reason to use cryptocurrency; and not only for legitimate means — cryptocurrency is a hotbed of cybercrime in Eastern Europe.
Venezuela: crypto as digital gold
In contrast to Ukraine and Russia, Venezuelans use crypto more like an asset to build their savings and trade for profit. The Venezuelan economy is notoriously unstable, and the currency unreliable, so crypto provides a more stable source of value for anyone looking to build their savings.
Even if the Venezuelan government tried to legitimise cryptocurrency in the country via the introduction of the Petro token, the ill-fated venture only further eroded trust in the government and banks. Instead, Venezuelans who buy crypto are mainly retail investors who engage in peer-to-peer trading.
What countries do you think will be the most important for cryptocurrency in the coming years? Join the discussion with the StormGain crypto community in our Telegram channel to share your views and find out what top traders have to say!
Join the global crypto revolution
One of the key takeaways from the Chainalysis report was the fact that crypto is a truly global phenomenon. Of the 154 countries analysed, only 12 scored zero on the index. Cryptocurrency is gaining around the world, especially in developing countries, but one of its main appeals is that crypto truly knows no borders.
Bitcoin and other cryptocurrencies are increasingly being adopted for trade, exchange, investment, and value storage. Wherever you are in the world, you'll need to use a crypto trading platform that works for you to profit from crypto going mainstream.
StormGain is the top crypto platform on the market, available on the web or as a user-friendly smartphone app. It offers 24/7 trading with up to 200x leverage, a wide range of benefits for active traders, integrated crypto wallets for the 6 most popular cryptocurrencies, and secure payment systems for buying crypto directly with your bank card.
If you're ready to join the top cryptocurrency platform with the best rewards for clients, sign up with StormGain to start trading now!
Tags
Exchange BTC

Try our Bitcoin Cloud Miner and get additional crypto rewards based on your trading volume. It's immediately available upon registration.

Try our Bitcoin Cloud Miner and get additional crypto rewards based on your trading volume. It's immediately available upon registration.