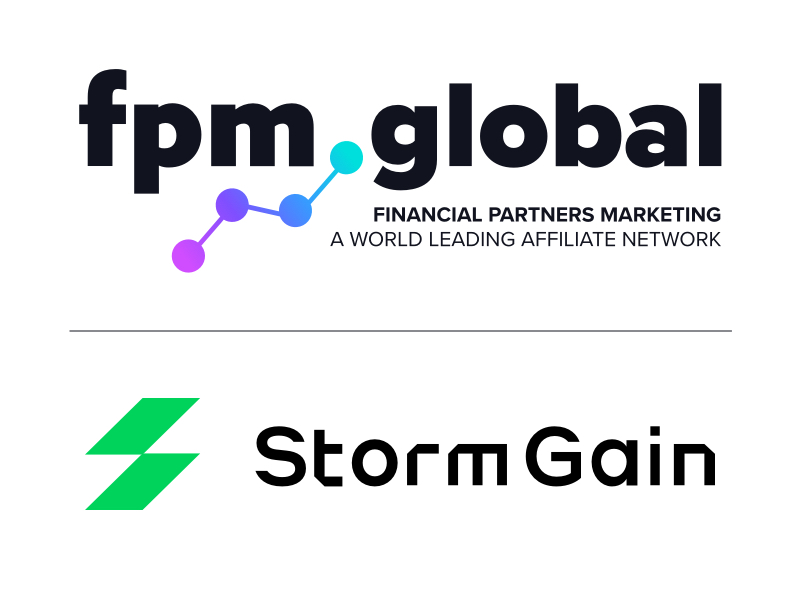 StormGain announces new partnership with FPM Global
Cutting-edge cryptocurrency trading platform StormGain has joined forces with affiliate network firm Financial Partners Marketing Global (fpm.global) in order to offer the next level quality service and support for its affiliate partners. The partnership, already effective as of the time of writing, places StormGain among several companies being managed  under the FPM Global banner.
StormGain – crypto trading for maximum gains
Inspired by the desire to make cryptocurrency trading simpler and more profitable for everyone, StormGain offers a cutting-edge platform for trading through future cryptocurrency contracts.  Available on the web or as a smartphone app with an easy-to-use interface, StormGain enables clients to trade with the most popular cryptocurrency pairs with a multiplier of up to 200x. Other notable features of the StormGain platform include free SWAPs for daily trades, the low and transparent fees and commissions, and 24/7 customer support.
FPM Global proud to partner with StormGain
FPM Global is an experienced affiliate company specialised in crafting solutions for businesses in the financial sector. Through FPM Global, partners can expect to prosper in the crypto sphere as well as the wider world of finance.
FPM Global will use its expertise to direct the operations and management of StormGain's affiliate programs. Current StormGain affiliates have already been informed of the partnership, while their credentials and contracts with StormGain remain unchanged.
Both StormGain and FPM Global have extended their welcome to existing affiliate partners and offer their top-level services to any interested clients. You can find out all the details about StormGain's affiliate partnerships here, and Financial Marketing Partners Global here.
Welcome to StormGain — crypto trading platform!
Trade with 200× multiplier.