Brace yourself: bullish Bitcoin pulls ahead of gold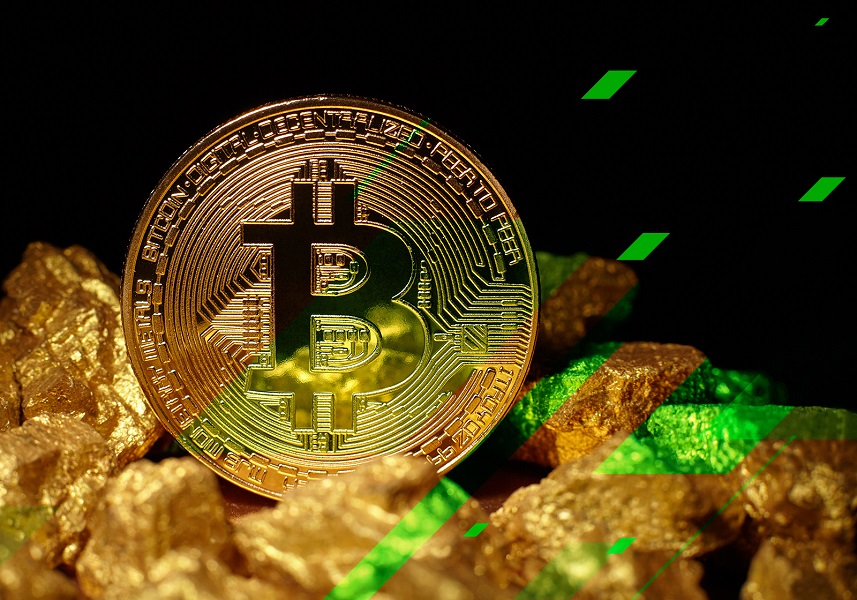 It's been an exciting start of the past week for Bitcoin as the world's top cryptocurrency appeared to escape the bear pit on Monday and kickstart a bullish trend. As BTC struggles to break through the $11,000 resistance point, here's what top traders are predicting for the original digital asset.
The past two days saw the price of BTC rise over 6% across major exchanges, climbing from $10,135 to $10,950 on StormGain and other exchanges. A dramatic wobble took place Tuesday, as Bitcoin's value dropped 3% to $10,360 before reclaiming $10,700. At the time of writing, Bitcoin is still hovering around the pivotal $10,700 mark. The milestone of $11,000 is out of reach for now, but several expert traders and trend-watchers see this as a cause for bullish optimism.
Bull run or bear trap? Ask the whale watchers…
There's a menagerie of money metaphors as the animal kingdom gathers to make sense of Bitcoin's latest movements. "After the pause BTC took for the weekend, Bitcoin is currently on a bullish impulse," said Italian crypto trader Alessandro Andreotti. "It could easily surpass $11,000, but it could easily be a bear trap so we must be careful."
But it's the Bitcoin whales that could be sounding the call for the bull run. Whalemap, an on-chain analysis firm that tracks whale activity in the crypto market, has identified several Bitcoin (BTC) whale clusters. These occur when the 'whales' (large-scale investors) gather and hold their Bitcoin over a long period. This would usually be a sign that the whales expect BTC price to increase soon and are accumulating coins in anticipation of this.
Whalemap highlighted whale clusters at $10,407, $10,570, and $10,667. In theory, these three points should be considered potential support areas if BTC prices manage to hold current levels. According to Whalemap analysts, "[it] feels like bulls have won", and the bullish momentum will continue for Bitcoin as long as it defends $10,407.
$11K will be BTC's resistance challenge
When historical data is taken into account, Bitcoin appears to be in good health. According to David Lifchitz, chief investment officer for quant trading firm ExoAlpha, "In a sign of strength, Bitcoin price has held above $10,000 for 63 days now. This is the longest time since December 2017 to January 2018."
Even if Bitcoin has been performing well over the long term, the recent rejection at $11,000 could be a sign of a bearish pullback in the short term.
Do you think BTC will break $11K, or is this resistance a sign of a downward trend? Join the discussion with the StormGain crypto community in our Telegram channel to find out what our experienced traders have to say!
Bitcoin breaks the gold chain?
Bitcoin's recent activity also highlighted an intriguing new development: The top cryptocurrency appears to have decoupled from gold, after a long trend of strong correlation with the shiny metal. At the same time that BTC rallied to over $10,700, gold actually dropped slightly.
Bitcoin and gold's market behaviour has been close in 2020, leading many to point to the cryptocurrency as 'digital gold', which attracted investment in BTC as a hedge against market instability in the same way investors flock to the precious metal. It remains to be seen whether BTC's decoupling from gold will turn out to be a long-term trend.
Buy, trade and exchange Bitcoin with StormGain
With Bitcoin about to test new price highs, it's the perfect opportunity for savvy traders to make money on the top cryptocurrency's next move. For the best rewards on buying, trading or exchanging crypto, top traders use StormGain.
Available on the web or as a user-friendly smartphone app, StormGain is an award-winning crypto platform that offers 24/7 trading on cryptocurrency pairs and indexes with up to 200x leverage. In addition, StormGain features a wide range of benefits for active traders, integrated crypto wallets for the 6 most popular cryptocurrencies, and secure payment systems for buying crypto coins directly with your bank card.
If you're ready to join the top cryptocurrency platform with the best rewards for clients, then sign up with StormGain to start trading now!
Tags
Exchange BTC

Try our Bitcoin Cloud Miner and get additional crypto rewards based on your trading volume. It's immediately available upon registration.

Try our Bitcoin Cloud Miner and get additional crypto rewards based on your trading volume. It's immediately available upon registration.