Elon 'The Dogefather' Musk wants to buy Twitter. How did crypto markets react?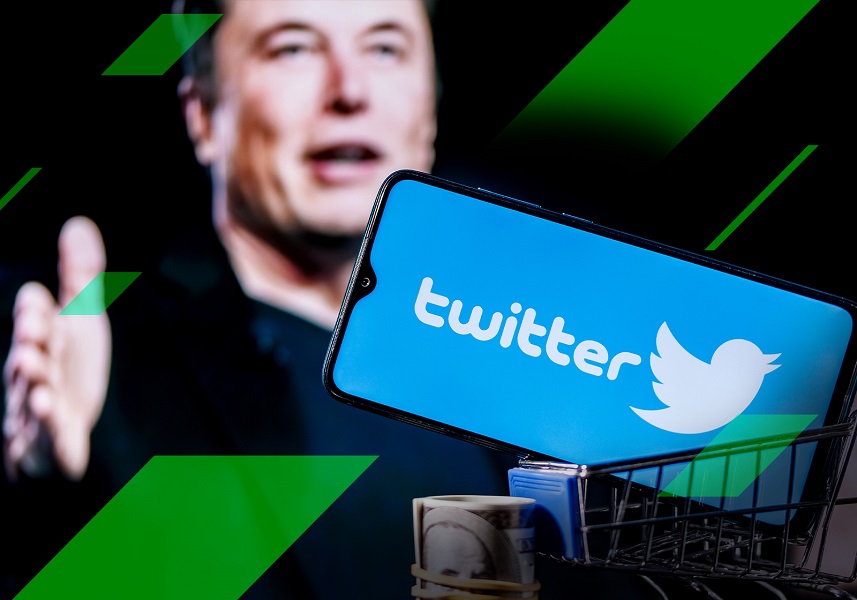 In a bold move, Elon Musk has taken steps to purchase Twitter, a social media platform that holds considerable importance in the public discourse of culture, politics and financial markets, crypto included. Previously, Musk's tweets have been criticised for being disproportionately influential on the share prices of his electric car company, Tesla, as well as the market prices of cryptocurrencies that the South African billionaire has an interest in.
At first, Musk's purchase proposal was treated as another social media stunt, but on 25 April, after weeks of intense discussion with Twitter's previous owners, he had his bid to acquire Twitter for $54.20 per share, a 38% premium over the company's share price for a total purchase of $44 billion, accepted by Twitter's board, although the plan has not been finalised yet.
The tech mogul has claimed that under his leadership, Twitter will become a bastion of free speech, but the smart trader will be keeping an eye on the economic consequences. How will this affect the market?
Musk's crypto position: BTC and DOGE
Musk has had a history of kicking off crypto bull runs via his tweets. The so-called 'Dogefather' famously brought Dogecoin (DOGE) from a little-known meme coin to nearly $1. He also helped to push Bitcoin from the mid-$30K range to $65K in less than a couple of months. However, whenever Musk disparages crypto online, it tends to contribute to bear markets. 
The initial impact on Bitcoin (BTC), often a barometer for the crypto market as a whole, has been positive. BTC had been on a downturn and threatened to plunge below $30K. Following Musk's proposed Twitter acquisition, the original cryptocurrency broke above $40K before settling to around $38K at the time of writing on 4 April. Musk has stated that he believes Bitcoin to be a real store of value and prefers it to holding dollars during times of economic difficulty.
Predictably, the price of Dogecoin also surged following the proposed acquisition, appreciating by 30%. The price increase appeared to be fuelled by a high number of high-value transactions, as the number of Dogecoin transactions over $100,000 reached 2,440 on Monday. This shows that the Dogecoin whales are shifting huge amounts of DOGE in anticipation of Musk's activity with Twitter.
Crypto influencers weigh in
Prominent figures in the crypto industry reacted favourably to the acquisition offer. Notably, Twitter founder Jack Dorsey called Musk the "singular solution I trust" to run the company, although he added, "In principle, I don't believe anyone should own or run Twitter. It wants to be a public good at a protocol level, not a company." Dorsey himself is a big blockchain advocate and has moved on to innovate in the crypto and fintech industry as CEO of Block (formerly Square),
Ethereum founder Vitalik Buterin also expressed some scepticism at first, saying that Twitter was in danger of becoming an Elon Musk echo chamber, but concluded that Musk running Twitter would be preferable to the platform's status quo or the possibility of a major company stepping in to acquire Twitter.
Crypto payments for verification?
Elon Musk has been complaining about the problem of spammers on Twitter for a long time, having promised to "defeat the spam bots or die trying." One interesting discussion that started up following the acquisition is the fact that micropayments of DOGE could be used to verify accounts before they are allowed to send a certain volume of messages, a so-called "orange checkmark".
The idea was proposed on 1 May by billionaire Mark Cuban, who said, "We add an optimistic rollup to Doge. Everyone puts up 1 doge for unlimited posts. If anyone contests a post and humans confirm its spam, they get the spammers doge." He elaborated that the flagged spammer would have to post 100 times more dogecoin, but if the flagging was false, the contester would lose their crypto.
Cuban's DOGE suggestion quickly accumulated over 10K likes on Twitter and a favourable response from Musk, who stated that it was "not a bad idea" while Doge co-creator Billy Markus replied, "I like it a lot". If Musk follows through, it would surely be a positive move for DOGE or any other crypto utilised for this.
NFT Twitter avatars?
Musk has generally been positive on crypto but negative on NFTs. It is an ongoing trend for NFT holders, such as Bored Ape Yacht Club members, to use their NFTs as social media avatars. But if you were hoping that Twitter would more closely integrate with NFTs, it doesn't seem likely to happen under Musk's leadership. Previously, when Twitter made it possible to configure one's Twitter user profile as an NFT, Musk slammed the move as "annoying", tweeting, "Twitter is wasting its engineering power on this nonsense while cryptocurrency scammers are partying." On the other hand, his strong stance against scammers on the platform could be a positive influence on the NFT market as a whole.
Trade BTC, DOGE and more on StormGain
The acquisition of Twitter by crypto supporter Elon Musk would likely have significant effects on the market in both the short and long term. Make sure you are positioned to benefit from this by joining StormGain, the all-in-one platform for trading, holding and exchanging crypto. Trade BTC, DOGE and over 60 other crypto instruments with low commissions and high leverage, as well as some of the best perks in the business.
Ready to trade crypto with the best bonuses? Sign up in just a few seconds to try StormGain for free!
Tags
Exchange BTC

Try our Bitcoin Cloud Miner and get additional crypto rewards based on your trading volume. It's immediately available upon registration.

Try our Bitcoin Cloud Miner and get additional crypto rewards based on your trading volume. It's immediately available upon registration.