Less Risk, More Gain – StormGain introduces crypto index trading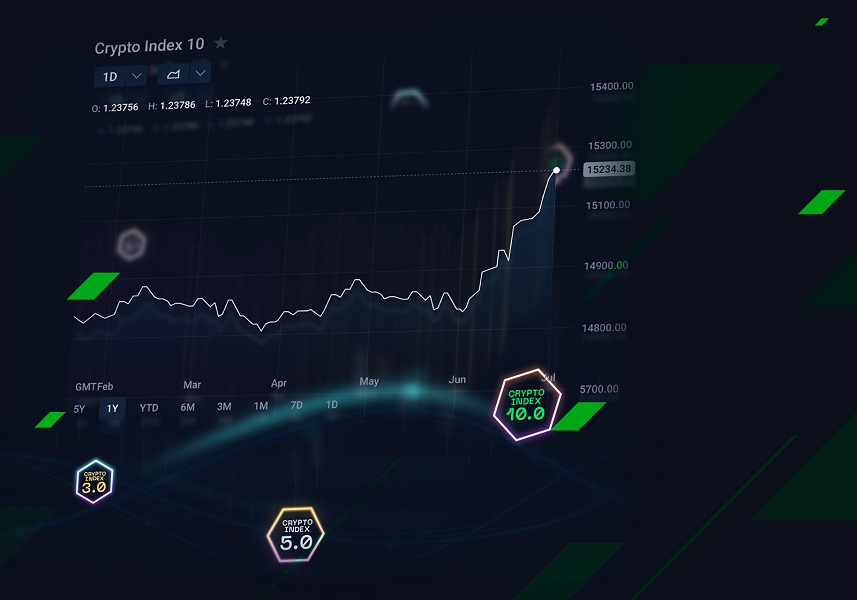 StormGain is pleased to announce that, from 17 September 2020, we're offering a new kind of trading instrument - crypto index trading. Just like regular stock indices, such as the SP500 or the Dow Jones, a crypto index is a consolidation of different assets designed to offer a safer investment in the market performance of a group of cryptocurrencies rather than a single coin.
Don't put all your eggs in one basket
Just as the old saying warns, relying on just one thing for support is risky. The main advantage of an index is risk management. Even if one cryptocurrency in the index goes up or down, the index will reflect the market performance of the combined assets. That means any unexpected dramatic shifts in one asset won't affect the overall value of the index too much. Investing in an index is a safeguard against the possibility of sudden crashes.
It's common trading wisdom that a diverse asset portfolio is key to long-term success. No one wants to lose everything by over-relying on a single asset. Over the years, a bundle of assets will perform better overall, growing as a group even if some assets swing up or down in the short term.
Save time and money with the crypto index trading
Building a crypto portfolio of individual assets can be a daunting task. The trader has to research each individual cryptocurrency — from historical performance to future predictions — and then decide how much to invest in each asset. Using an index, especially one as carefully curated as the indices offered by StormGain, saves you time and money.
Do you prefer to trade indices or individual assets? Discuss the merits of both with StormGain community in our Telegram channel to share your views and find out what experienced crypto traders have to say!
Types of StormGain Crypto Indices
StormGain offers three different indices. Each one is a carefully curated basket of the largest and most popular cryptocurrencies designed to succeed in the market and fit the needs of different traders and investors. Every StormGain crypto index offers a diverse portfolio that safeguards against risk and saves you time and money — all in one click! Index values ​​are calculated in real-time. The following indices were first published on 10 July.
Crypto Index 3.0 (symbol: CryptoIndex3, base value 300) combines equal shares of the 3 leaders of the digital blockchain market with the largest capitalisation: Bitcoin, Ethereum, and Ripple. The total value of these 3 cryptocurrencies accounts for 80% of the entire cryptocurrency market. Crypto Index 3 is ideal for beginner traders who want to start with the safest, most established digital assets.
Crypto Index 5.0 (symbol: CryptoIndex5, base value 500) is based on the rates of the top 5 digital blockchain market leaders with the largest capitalisation: Bitcoin, Ethereum, Ripple, Litecoin, and Bitcoin Cash, with a total value of 83% of the entire cryptocurrency market. Each digital token has an equal 20% weighting and is perfect for traders who want to include the most popular altcoins.
Crypto Index 10.0 (symbol: CryptoIndex10, base value 1000) is composed of the top 10 digital tokens by market cap, covering 90% of the entire cryptocurrency market. The index is based on the following coins: Bitcoin, Ethereum, Ripple, Litecoin, Bitcoin Cash, Dash, Eos, Cardano, Monero, and Bitcoin SV. Each coin is weighted in proportion to its volatility: the higher the volatility, the greater the currency's weight in the index. This approach to structuring the index makes it ideal for experienced users who want to engage in active, aggressive trading.
StormGain – more profit at lower risk
Available as a user-friendly web platform or mobile app, StormGain allows trades 24/7 on the top cryptocurrencies with up to a 200x multiplier and 100% liquidity. Commissions are among the lowest available so you can trade as aggressively as you like and keep your profit. In addition to the best rates for trading, exchanging, and buying cryptocurrencies, StormGain offers the best rewards in the business for active traders via our loyalty programme, including significant discounts on commissions, bonuses on deposits, and up to 20% APR interest on crypto holdings.
Get ready for the age of cryptocurrency by becoming an expert thanks to our in-app education programme and market trading signals. Our new crypto indices make getting started in crypto trading even easier. Registering with StormGain is easy and takes just 5 seconds. Sign up now and try StormGain completely risk-free with our demo account.
Tags
Exchange BTC

Try our Bitcoin Cloud Miner and get additional crypto rewards based on your trading volume. It's immediately available upon registration.

Try our Bitcoin Cloud Miner and get additional crypto rewards based on your trading volume. It's immediately available upon registration.