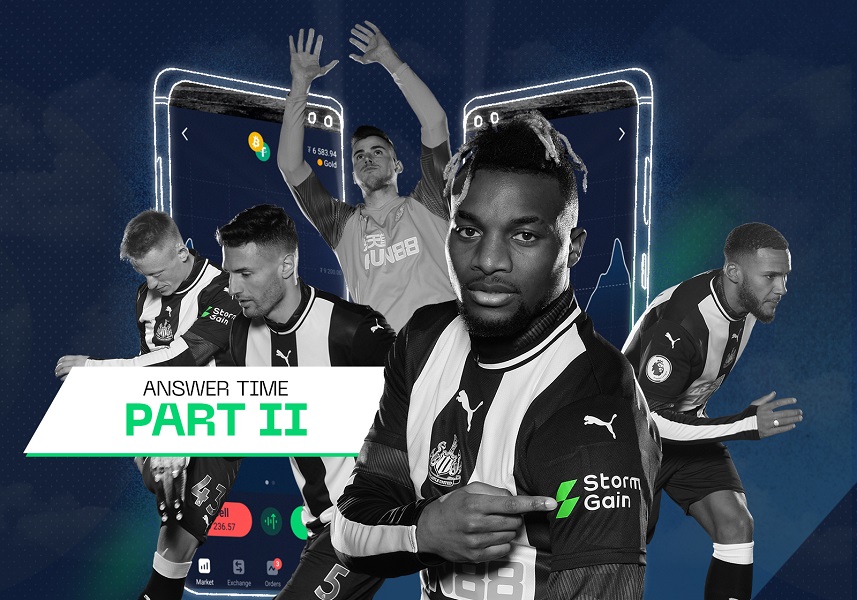 NUFC players open up in StormGain Answer Time Part 2
StormGain takes to the pitch once again with our official sleeve partners Newcastle United FC for round two of StormGain Answer Time.
In this three-part video series, we get intimate with the magpies and interview the star players about skill, luck and success in the beautiful game - and of course, how much they really know about cryptocurrency, too! Whether you're a die-hard Newcastle United fan or just crypto-curious, you'll find some pearls of wisdom among the answers.
The second episode of StormGain Answer Time is now up, and you can watch Sky Sports News' Keith Downie chat with Newcastle United players Allan Saint-Maximin (winger), Jamaal Lascelles (defender and captain), Fabian Schär (defender), Matty Longstaff (midfielder) and Karl Darlow (goalie) to get their thoughts on football and finance.
How does it feel to play at the top level in the English league? What's their favourite position (on the pitch, of course)? What are their career highlights and why? Watch the full video for answers of these questions and more insights into the inner life of a pro footballer.
On the crypto side, you'll get to know if football and crypto professionals can be friends, and what these top athletes can tell us about the history of bitcoin. Also, what on Earth is a Fabcoin? In addition to the player's answers, you'll learn some interesting crypto factoids as they pop up in text boxes throughout the interview.
As the proud sponsor and official sleeve partner of NUFC, StormGain is passionate about making cryptocurrency as accessible and popular as football, with the same enthusiasm that fans bring to support their favourite team on the pitch. That's why we created the most easy-to-use trading platform in existence, that makes it simple for beginners and experts alike to trade in all the top cryptocurrencies.
Available as a smartphone app or on the web, StormGain is currently offering its users a fantastic annual interest of 10% on your cryptocurrency holdings and a 15% bonus on deposits. Sign up now and start trading with StormGain today for the best deals in the business!
Welcome to StormGain — crypto trading platform!
Trade with 200× multiplier.