StormGain adds new deposit method to its line-up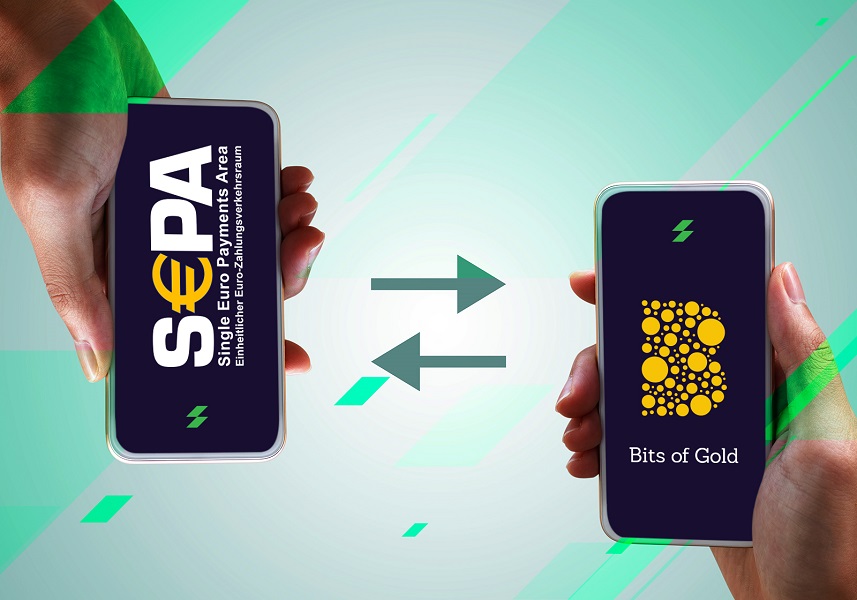 Just when you thought adding and withdrawing funds to your StormGain wallet couldn't get any easier, the premier crypto trading platform and its partner Bits of Gold found a way to make trading with StormGain both more convenient and more lucrative. In the past, the only option for purchasing digital assets with fiat currency was via instant debit/credit card purchase. But, as of Monday 19 October, our EU-based clients can now make both deposits and withdrawals using standard SEPA bank transfers.
How does it work?
Say you want to deposit crypto to your account. You simply send your fiat money via normal SEPA transfer to Bits of Gold's bank account. As soon as the payment clears, they will automatically convert it to your desired cryptocurrency, and we will credit it to your relevant StormGain wallet. For withdrawals, the process is more or less the same. The only difference is that you transfer your chosen digital currency to Bits of Gold's crypto wallet, and then they convert it to fiat before sending it to your personal bank account.
What currencies can I exchange?
This new service is currently only available to fund accounts by transferring Bitcoin (BTC) or to withdraw funds in Bitcoin (BTC) or Ethereum (ETH), but we may expand the number of supported cryptocurrencies in the future. At any rate, these are the two biggest coins by market cap and general popularity and are readily usable and convertible on countless platforms. It's also worth noting that the only fiat currency we accept for these types of transfer is EUR.
Are there any limits?
The minimum deposit amount we can process is 250 EUR, while the maximum is a massive 1,000,000 EUR. Meanwhile, our threshold withdrawal amount is a generous 150 EUR, while the most you can withdraw in one go is 10,000 EUR.
How about the commission?
One of the biggest advantages of this new method is the huge savings it represents compared to other fiat-to-crypto conversion options. The commission for withdrawals is only 0.1% and absolutely zero for deposits. Bits of Gold does charge a 5% exchange fee, but this is still well within the normal range for such transactions.
What do I need to do?
Now that you know how it all works, here's how you actually make a transfer. First, you need to sign in to your StormGain account and select the Wallets tab. After that, click or tap SEPA transfer and then 'Initiate a Transfer'. This will automatically open Bits of Gold, where you will be asked to select your desired cryptocurrency and enter an amount. Once you're happy with all the parameters, click continue and complete their verification procedure. After that, it's just a matter of filling in your bank details and initiating the transfer. To make things even easier, we created this handy video tutorial that provides a step-by-step guide to setting up your own withdrawal transfer. Funding your account with Bits of Gold is just as easy.
So, if you're in an EU country and are looking for a quick and cost-effective way to convert your crypto for fiat or vice versa, give it a watch and start exchanging today!
Tags
Exchange BTC

Try our Bitcoin Cloud Miner and get additional crypto rewards based on your trading volume. It's immediately available upon registration.

Try our Bitcoin Cloud Miner and get additional crypto rewards based on your trading volume. It's immediately available upon registration.