StormGain new crypto wallets - don't miss out on these hot altcoins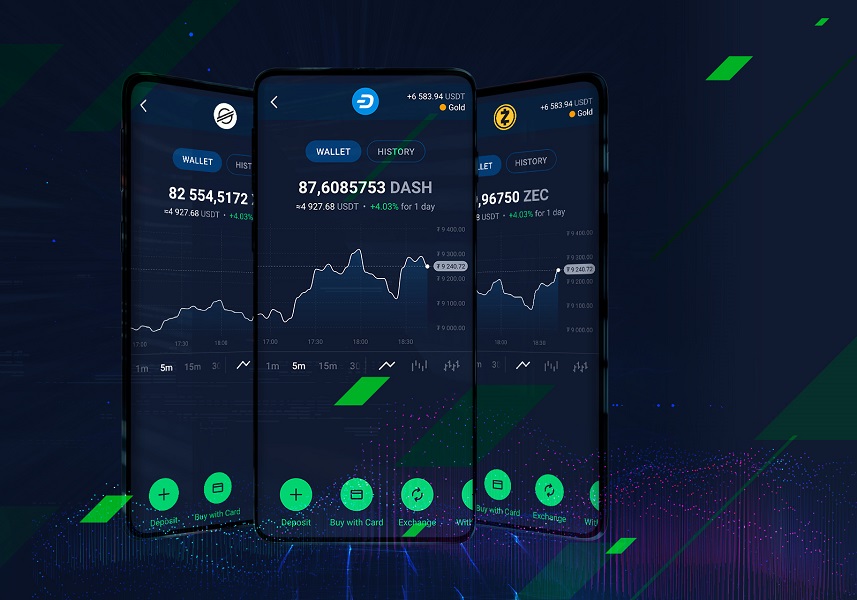 StormGain is pleased to announce an exciting new feature for our award-winning cryptocurrency trading and exchange platform. Starting 20 October, three new crypto wallets are available to clients. The new wallets will hold three of the most popular up-and-coming altcoins: Dash, Zcash and Stellar.
StormGain's integrated crypto wallets allow our users to manage their digital assets more efficiently on the web platform or smartphone app and to quickly and easily exchange between currencies. Previously, wallets were only available for the top 6 cryptocurrencies: Bitcoin, Tether, Bitcoin Cash, Ethereum, Ripple and Litecoin. Now, the following altcoins have been added for a grand total of 9 StormGain wallets.
Dash (DASH)
Launched in 2014, Dash is an open-source cryptocurrency that was previously known as Darkcoin, a fork from the Bitcoin protocol that focused on privacy, liquidity and scalability. Later known as Dash (as in, digital cash), this altcoin uses a proof-of-stake rather than a proof-of-work algorithm. As such, transactions are cheaper and faster than with BTC, making Dash more suitable for everyday financial activity.
Zcash (ZEC)
Zcash is another privacy-focused digital cash. The Z stands for zero, referring to the zero-knowledge proofs that allow transactions to be verified without revealing the sender, receiver or transaction amount. Zcash also supports selective disclosure or even transparent transactions, but only at the user's discretion.
Stellar (XLM)
The Stellar blockchain network acts as a transaction facilitator between banks, payment services and individuals, with the aim to make cross-asset and cross-border transactions easier and more cost-effective. Stellar's native cryptocurrency with the trading ticker XLM is more properly called lumens. However, in common parlance, Stellar is also used to refer to the cryptocurrency itself, much in the same way as Ethereum/Ether.
Which of these altcoins offers the best opportunities for traders? Join the StormGain community in our Telegram channel to discuss this topic and more with experienced crypto traders and to share tips and tricks!
Advantages of StormGain wallets
All StormGain crypto wallets can be funded via bank card or transfer, which makes it easy to acquire Dash, Zcash or Stellar on StormGain in exchange for fiat currency. The majority of your digital assets stored in StormGain wallets are also kept in cold wallets and secured by 2-factor authentication to provide the safest crypto storage system among crypto exchanges. Furthermore, by participating in StormGain's loyalty programme, digital assets in StormGain wallets are eligible for up to 12% APR interest.
StormGain: join the next-gen crypto platform
Designed to provide the best crypto services to beginners and experts alike, StormGain enables 24/7 trades with up to 200x leverage on the most attractive digital assets, including the top crypto coins, altcoins, indices and DeFi tokens. Thanks to our unique integrated cloud mining feature, even passively using StormGain will add new crypto to your wallet at no cost to the user. In addition, StormGain features built-in trading signals, a suite of educational services from starting tutorials to advanced trading strategy, and a host of discounts and bonuses for our frequently active users.
It only takes a few seconds to register with StormGain and join the cryptocurrency platform with unbeatable bonuses. Sign up now and start trading today, or try completely free with a demo account!
Tags
Exchange BTC

Try our Bitcoin Cloud Miner and get additional crypto rewards based on your trading volume. It's immediately available upon registration.

Try our Bitcoin Cloud Miner and get additional crypto rewards based on your trading volume. It's immediately available upon registration.