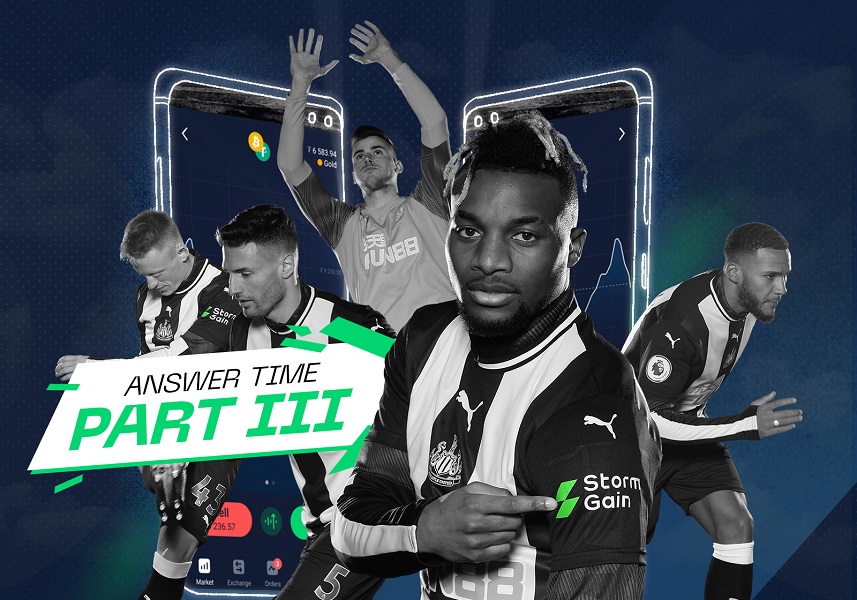 StormGain Answer Time Part 3: Chatting with Champions
StormGain joins our official sleeve partners Newcastle United FC once more for round three of StormGain Answer Time. In this new interview, we get the low-down from our favourite football stars about the secrets of the beautiful game, as well as interesting tidbits about cryptocurrency.
In the final episode of this three-part video series, Sky Sports News' Keith Downie met up with Newcastle United players Allan Saint-Maximin, Jamaal Lascelles, Fabian Schär, Matty Longstaff (midfielder) and Karl Darlow to pick their brains about Bitcoin and footy. Are the Newcastle FC Stars as enthusiastic about crypto trading as we are about football?
Find out what the NUFC players think about crypto, who the best players in the game are right now, and who the most challenging opponents to face are. We also get some candid details about how the players celebrated their first goal, where they picked up their signature skills and the critical role the captain plays.
Watch the full video for answers to these questions and more insights into the exciting world of professional football.
Discover which NUFC players could benefit from StormGain's excellent crypto training materials and get some future Bitcoin price predictions from the mouths of the magpies themselves. Whether you're a longtime Newcastle United fan or just getting into cryptocurrency, you'll find plenty of interesting answers. You'll also learn some fun facts about StormGain, the best cryptocurrency trading platform, in text boxes throughout the video.
StormGain is composed of passionate football fans. As the proud sponsor and official sleeve partner of NUFC, our goal is to make cryptocurrency trading as popular as football, with the same energy that fans have when cheering on their team. Not only is StormGain the easiest-to-use trading platform on the market, but it also offers the best bonuses and lowest fees in the business, so that everyone has a chance to be a trading champion.
Available as a smartphone app or on the web, StormGain currently offers its users a fantastic annual interest rate of up to 12% on cryptocurrency holdings. Sign up with StormGain today and start playing to win!
Welcome to StormGain — crypto trading platform!
Trade with 200× multiplier.