StormGain's new look: what's changing and why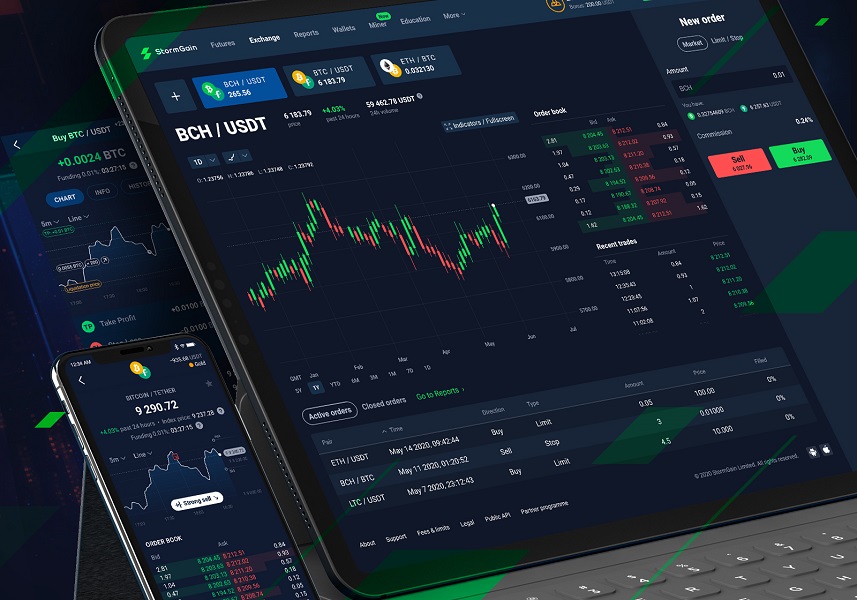 StormGain, the cryptocurrency exchange and trading platform for everyone, is excited to announce that significant changes are in the works for the next release.
Over the past year, we've been gathering feedback from our clients, testing new designs and tools and thinking of new benefits to bring to our users. The changes will roll out as an update to the StormGain web platform and mobile app. They're all geared toward making StormGain a more versatile and powerful tool to trade crypto for maximum profit within the wider crypto community. The key? Putting more information in your hands.
Bid and ask price orders
In previous versions of StormGain, orders were executed at the mid-price, i.e., the average of the quoted Bid and Ask prices for a digital asset. In the next update, StormGain traders will have more information and more control when trading. Users will be able to execute orders by the Bid (the maximum a buyer will pay) and Ask (the minimum a seller will accept) prices, rather than by Mid prices.
Order book and recent trades
A highly anticipated feature will arrive on StormGain: the Order Book. This integrated tool will display all buy and sell orders for every instrument. By checking the Order Book for each cryptocurrency, StormGain clients will be able to gauge market interest in a particular asset.
In addition, we will add a Recent Trades section, which will display real executed orders from other trades in real-time. See what's hot and what's not in the crypto market by checking both the Order Book and Recent Orders on the Instrument pages of the StormGain platform.
Web redesign
Our customers have appreciated the StormGain mobile app's intuitive design. Now it's time to give the StormGain web platform a UI facelift to bring it up-to-date with the world's high standards. The StormGain web platform is undergoing a complete redesign. The next release will be more user friendly, faster, and contain more powerful tools as outlined above.
StormGain: the best crypto exchange gets even better
Available as a user-friendly web platform or mobile app, StormGain makes 24/7 trading possible for top cryptocurrency pairs and indices with up to x200 leverage, 100% liquidity, and some of the lowest commissions on the market. In addition to the best rates for trading, exchanging, and buying cryptocurrencies, active StormGain traders benefit from significant perks thanks to our loyalty programme, which includes, among other benefits, heavy discounts on commissions, bonuses on deposits, and up to 12% APR interest on crypto holdings.
With the new update, StormGain challenges traders to up their game by providing a new feature set that offers everything they need to trade cryptocurrency at the highest level. Even advanced crypto veterans will find new benefits from trading with StormGain. Register with StormGain in just 5 seconds and find out what the world's number one crypto exchange can do for you.
Tags
Exchange BTC

Try our Bitcoin Cloud Miner and get additional crypto rewards based on your trading volume. It's immediately available upon registration.

Try our Bitcoin Cloud Miner and get additional crypto rewards based on your trading volume. It's immediately available upon registration.