StormGain's top six coins for prospective crypto investors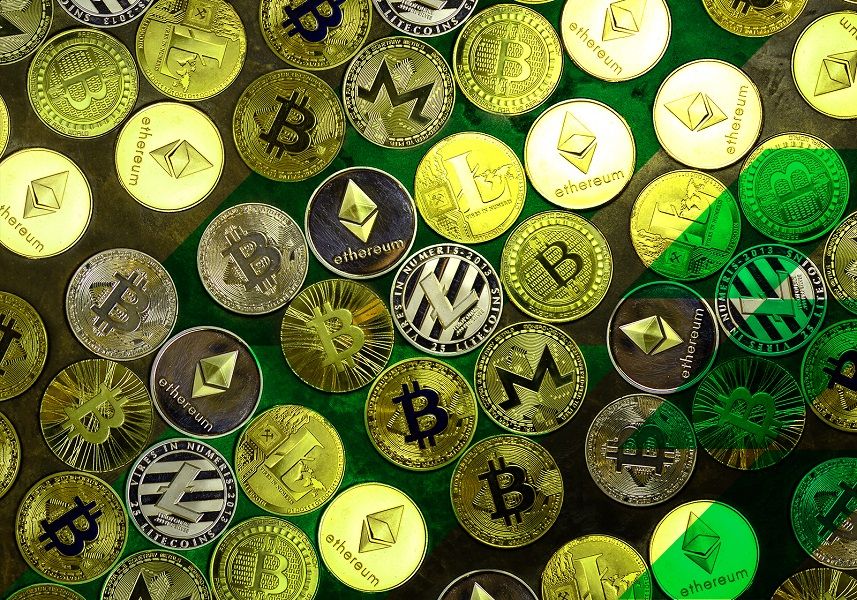 Cryptocurrencies have evolved from a niche, virtually unknown asset class into one of the hottest investment vehicles of today. What's even more remarkable is the pace with which this transformation has taken place. In the space of fewer than 5 years, these digital currencies have gone from tough to buy and even harder to sell to a genuine tradable instrument offered on a wide variety of exchanges and trading platforms with capital flows to rival some of the most popular traditional asset classes. And it's not just individual investors who are behind this mass adoption, big institutions are also jumping on the crypto bandwagon in a trend that looks set to become the new normal.
As you're probably aware, there are literally thousands of different coins and tokens available for near immediate purchase. But many of these are questionable at best, with a significant number going to zero every year. So the question is: How do you as an investor separate the wheat from the chaff as it were? Though there are plenty of altcoins with the potential for Bitcoin-esque growth, the risks are always much larger with as of yet unproven projects. Therefore, the best thing you can do to protect your investment is stick to large coins with adequate capitalisation and a strong user base. With this in mind, we have compiled a list of some of the most reliable cryptocurrencies around. So without further ado, let's take a look at the world's biggest coins.
Bitcoin
Any list of popular digital currencies will invariably place Bitcoin at the top. As the very first coin to launch, its value far outstrips that of even its closest competitors. Ever since its epic rise, it has all but become a household name instantly recognisable to OAPs and schoolchildren alike. There is absolutely no doubt that it is the most used cryptocurrency with over 40 million individual wallets in existence. Hell, Bitcoin is practically a synonym for the entire crypto asset class. Unsurprisingly, then, it has by far the biggest market cap at a whopping $178,259,908,942, as well as an average 24-hour trading volume close to 40,000,000,000. Despite boasting the highest price on the market ($9,790.18), there is still room for growth. Lest we forget that only 2 years ago, it was trading at more than double this level. One thing's for sure, Bitcoin is going to be here as long as there are digital currencies, making it the perfect choice for any relatively risk-averse crypto investor.
Ethereum
In recent years, Ethereum has successfully cemented its position as the No. 2 digital currency and is already a major part of any diversified trader's portfolio. What really sets it apart from Bitcoin is its smart contract architecture, which has even garnered praise from the likes of Bill Gates. Ethereum has total market capitalisation of $29,563,490,954. Clearly this is much lower than Bitcoin, but that is largely due to its much larger coin supply and relatively low price. If we look at daily trading volumes, the gap doesn't appear nearly as large. $19,582,449,687 worth of ETH is traded every day, which is more or less exactly half the amount of Bitcoin. It would appear that BTC has Ethereum well beaten, until we take a look at the number of users, that is. There are currently over 50 million unique Ethereum addressees, which could mean that second fiddle could soon be challenging for the top spot. While still fresh enough to have strong growth potential, ETH is sufficiently well established that investors need not worry about it going to zero. If you believe in the technology and are hoping for larger returns in a shorter space of time, Ethereum could be just the ticket.
Litecoin
Although originally a hard fork of the original cryptocurrency, Bitcoin, LTC has managed to build a reputation of its own since launching back in 2011. What really differentiates Litecoin from its big brother is its comparatively rapid block processing speeds. It only takes around 2.5 minutes to process one block on the Litecoin Network compared to 10 minutes on the Bitcoin blockchain. With a market cap of $4,721,924,002, LTC currently ranks sixth in the global cryptocurrency league table. But this only tells half the story. Litecoin's 24-hour trading volume of $5,880,932,050 is only beaten by Bitcoin and Ethereum and it's easy to imagine a future where this cryptocurrency is able to regain a spot in the Top 5. Though undoubtedly a more risky investment than the Big Two above, Litecoin could reward any faithful speculators with some handsome returns in years to come.
Ripple XRP
Ripple is an American company originally founded in 2012 under the name Opencoin. After developing the Ripple Transaction Protocol, the company changed its name to Ripple to reflect its latest product. The purpose of the protocol is to make international payments quicker, cheaper and more efficient – and there's no doubt it does all these things. Many big name banks have already adopted the payment network, including Santander, Standard Chartered and UniCredit Group. However, the coin XRP has not been quite as successful from a value storage/appreciating investment perspective. Prices have been pretty stagnant since the boom of January 2018 and we haven't seen the coin rise above $1.00 for two years now. That said, it does have a very large market cap of $11,742,935,822 and its daily trading volume is more than respectable at $2,453,629,731. There are many whose faith in Ripple as a long term prospect is unwavering: they are convinced we will eventually see prices above $5. However, one thing any potential investor has to bear in mind is its gargantuan coin supply. With over 43B coins in circulation, it's hard to see how it can ever appreciate significantly.
Bitcoin Cash
This offshoot of the original cryptocurrency Bitcoin launched back in the summer of 2017 and has enjoyed a rapid rise to fame, eventually cementing its position in the Top 5 global cryptocurrencies by market cap. One reason for its popularity is the faster transaction times and scalability it offers over Bitcoin. It is also much cheaper to use than its more famous sibling, which makes it even more attractive to habitual users. The coin has decent capitalisation at about half that of Ripple ($6,683,575,320), but its daily trading volume is nearly double that of XRP. While it's clear that BCH has a raft of advantages for end-users, as an investor, you're quite reasonably more interested in its prospects. Well, if recent history is anything to go by, Bitcoin Cash's growth has far outperformed the rest of the market of late. BCH is up nearly 100% YTD, while Bitcoin hasn't even achieved half that. Could this be a sign of more to come? Who knows. But one thing's for sure: BCH is a fairly safe investment long-term and – if it can keep up this growth dynamic – it could just make you a pretty penny.
Bitcoin SV
The number five spot is currently occupied by a relatively recent fork of Bitcoin Cash known as Bitcoin SV (with SV standing for Satoshi's Vision). As its name would suggest, it was created to bring about a return to the original Bitcoin protocol as envisioned by BTC's creator. Despite only going live a little over a year ago, it has already managed to knock Litecoin out of the Top 5 and is hot the heels of BCH both in terms of market cap and price ($4,926,702,759 and $269.30 respectively). Its 24-hour trading volume is also pretty impressive, standing at $2,314,069,675, which puts it just above XRP. We should note that the coin did recently spike by more than 100% in the past couple of months, which could mean a correction is on the way. This being the case, Bitcoin SV is probably the most risky of the six for an investment today. However, once the price has corrected to a more reasonable valuation, it would represent quite a lucrative option for crypto investors. Watch this space.
And there you have it…
That rounds up our top six picks for prospective crypto investors looking for a good balance between risk and potential reward. Naturally, the safest course of action as in any investment activity is diversification, which is why we recommend building a portfolio of several coins. And if you're after a reliable exchange on which to buy and store your cryptocurrency, then look no further than StormGain. Not only is our commission amongst the lowest on the market, we even pay our clients interest on all their crypto deposits up to a maximum of $50,000 USDT equivalent. So if a guaranteed annual return of at least 10% sounds enticing, why not register an account today. Go to stormgain.com now and start earning immediately!
Tags
Exchange BTC

Try our Bitcoin Cloud Miner and get additional crypto rewards based on your trading volume. It's immediately available upon registration.

Try our Bitcoin Cloud Miner and get additional crypto rewards based on your trading volume. It's immediately available upon registration.