Why should you trade with StormGain and not other crypto exchanges?

The StormGain cryptocurrency trading platform with multiplier was launched in 2019. This platform has a number of benefits and features that make it possible for everyone to quickly and effortlessly earn money in the cryptocurrency market. In this article, you will learn about its user interface, main traded cryptocurrencies, low commissions, free demo account, interest rate and much more.
StormGain key features
The StormGain trading platform has a wide range of benefits for cryptocurrency traders. Including a user-friendly interface, instant registration and the ability to trade from any device in 24/7 mode, etc. We will focus on the main points:
User-friendly interface
A simple and user-friendly interface is what highlights StormGain in the vast list of other trading platforms. It provides maximum functionality for traders so that they can concentrate on making deals. One can open and close deals, create and cancel trading orders, as well as deposit and withdraw funds easily. Even newbies that are making their first steps in the cryptocurrency market can successfully trade right after registering and funding their accounts.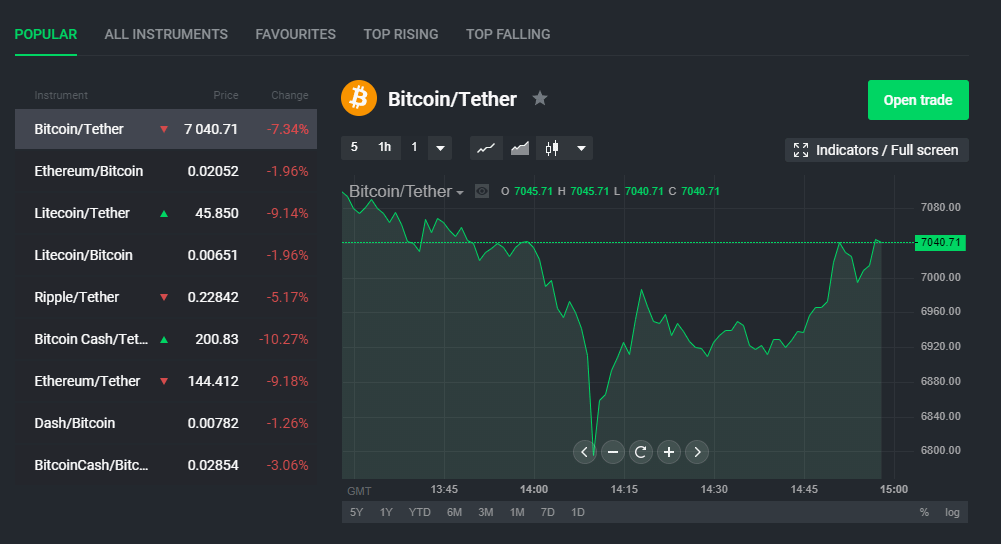 Quick registration
StormGain has a fast and easy registration process compared to many other cryptocurrency trading platforms. In other platforms, you need to pass a multi-stage verification which lasts several days before you can start trading. With Stormgain, you can dive into the cryptocurrency market right after filling in one simple form with your e-mail and password. 
Major cryptocurrencies
You do not need to spend time looking for the most interesting asset for trading. Join StormGain and trade cryptocurrencies that interest the majority of cryptocurrency traders. You can trade pairs such as Bitcoin/Tether, Ethereum/Bitcoin, Litecoin/Tether, Litecoin/Bitcoin, Ripple/Tether, Bitcoin Cash/Tether, Ethereum/Tether, Dash/Bitcoin and BitcoinCash/Bitcoin. Don't waste your time on useless research, use it for successful trading with StormGain.
Clear and low fees
When you open a trade in StormGain, you don't need to make complex calculations to find out trading fees. You can see the commission for your deal in the very same window. There are no fees for maintaining the account or using the trading platform, no hidden commissions. Moreover, intraday cryptocurrency traders have more benefits while trading at StormGain, since the position transfer fee (swap) is only charged once a day.
24\7 access to trading from any device
The cryptocurrency market operates around the clock. Therefore, Stormgain provides the ability to trade 24/7. Without technical breaks, holidays and weekends. You can use the opportunities that come up in the market at any time. You can access StormGain from any device via a web-terminal, as well as use applications for iOS and Android operating systems.
Demo-account
You don't need to use your own funds to try trading. Use the StormGain demo-account and get all the functionality you would get with real accounts completely for free. You can switch from a demo to a real account at any time, as soon as you consider yourself ready for real trading. And you can switch back too, in case you want to test some new trading strategies.
StormGain benefits
StormGain is a unique trading platform because of a number of features that not only give you advantages for earning on crypto price movements but also make it time and money efficient.
Multiplier
StormGain has the most flexible system that allows trading with more funds than a trader would have. This is possible because of the use of a multiplier of up to x100. A multiplier allows you to get more profit from trading. Let's consider that you've opened a trade for $1,000 on Bitcoin, and Bitcoin grew from $10,000 to $10,075. If you don't use a multiplier, your profit will be $7.5. If you use x100 multiplier, you'll get $750.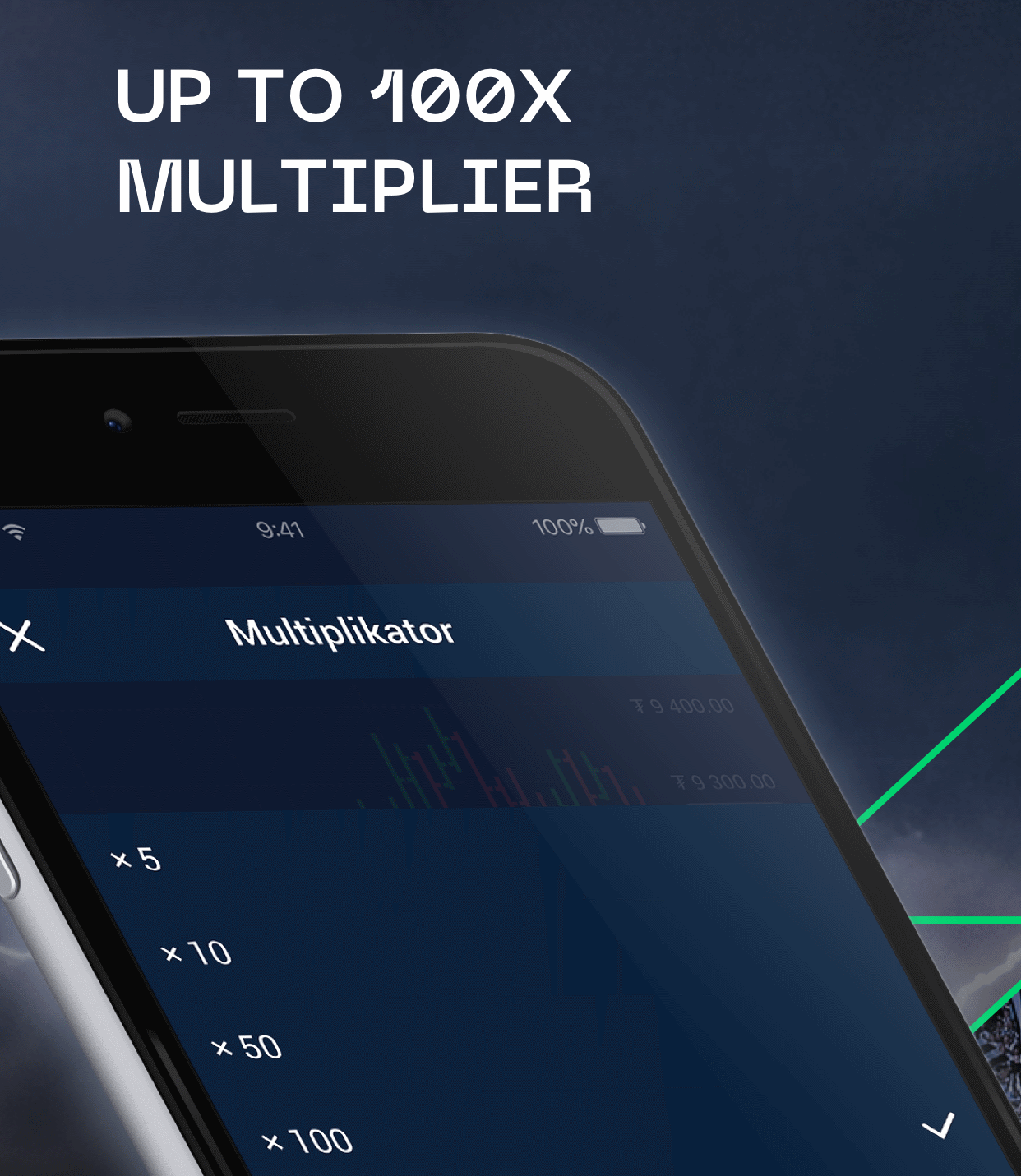 Easy account funding
You can fund your trading account both in cryptocurrency and fiat money. Simply transfer your own cryptocurrency from any wallet or crypto exchange to the StormGain account. 
If you do not have your own cryptocurrency, you can buy it with a bank card. Just choose the "Buy cryptocurrency with a credit or debit card" option. You will be redirected to the website of the payment system, where you will need to enter your card details. After processing the payment, your funds will be automatically converted to the chosen cryptocurrency.
Learn how to earn
StormGain allows you to quickly learn the basics of trading and immediately implement that knowledge into practice. The special "Video education" section inside the StormGain trading platform contains short video tutorials. They cover the most popular questions such as "What is tether?", "How do you trade with StormGain?"  and other basic knowledge you may need in order to successfully trade with StormGain.
Great opportunities to spend free time
StormGain is an official sponsor of Newcastle United FC and regularly holds different contests, raffles, etc. If you're interested not only in trading but also in having a good time, take part in StormGain promo activities. You'll get a chance to win signed t-shirts, balls, tickets, trips to football matches and an opportunity to meet the players of Newcastle United FC.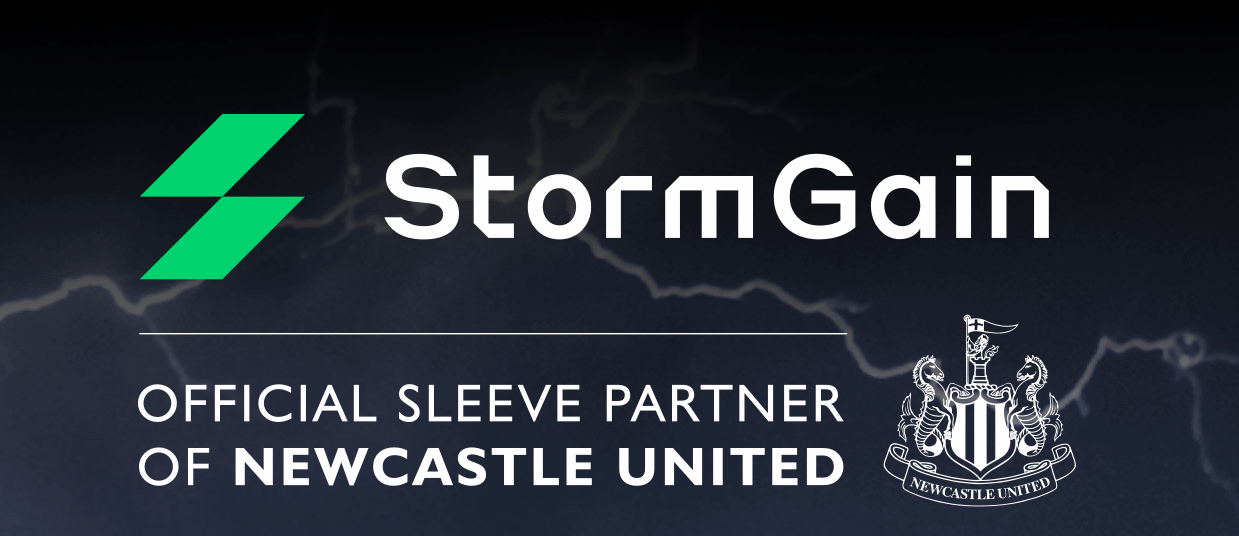 Other opportunities to make money with StormGain
If you are not a cryptocurrency trader you can still benefit from cooperating with StormGain. 
10% guaranteed income
If you're interested in passive income, StormGain offers you the opportunity to receive income at 10% per annum. All you need to do is to fund your account with more than 100 USDT and less than 50,000 USDT to use this opportunity. The amount of interest will be added to your account on a daily basis, based on the sum of the total remaining balance of your account.
Profitable affiliate program
StormGain launched an affiliate program that makes it possible to earn money for those who are not engaged in trading. Register as an affiliate and get access to a library of high-conversion marketing materials, a traffic monitoring system and personal support from our affiliate team. Attract clients to StormGain and earn money. Payments are made in a way that is convenient for you - through Skrill, PayPal, WebMoney, Yandex Money, QIWI or Bitcoin-wallets.
Want to make money on cryptocurrencies? Join StormGain and earn money with us!
Tags
Exchange BTC

Try our Bitcoin Cloud Miner and get additional crypto rewards based on your trading volume. It's immediately available upon registration.

Try our Bitcoin Cloud Miner and get additional crypto rewards based on your trading volume. It's immediately available upon registration.