Best cryptocurrency exchanges compared: only one offers the complete package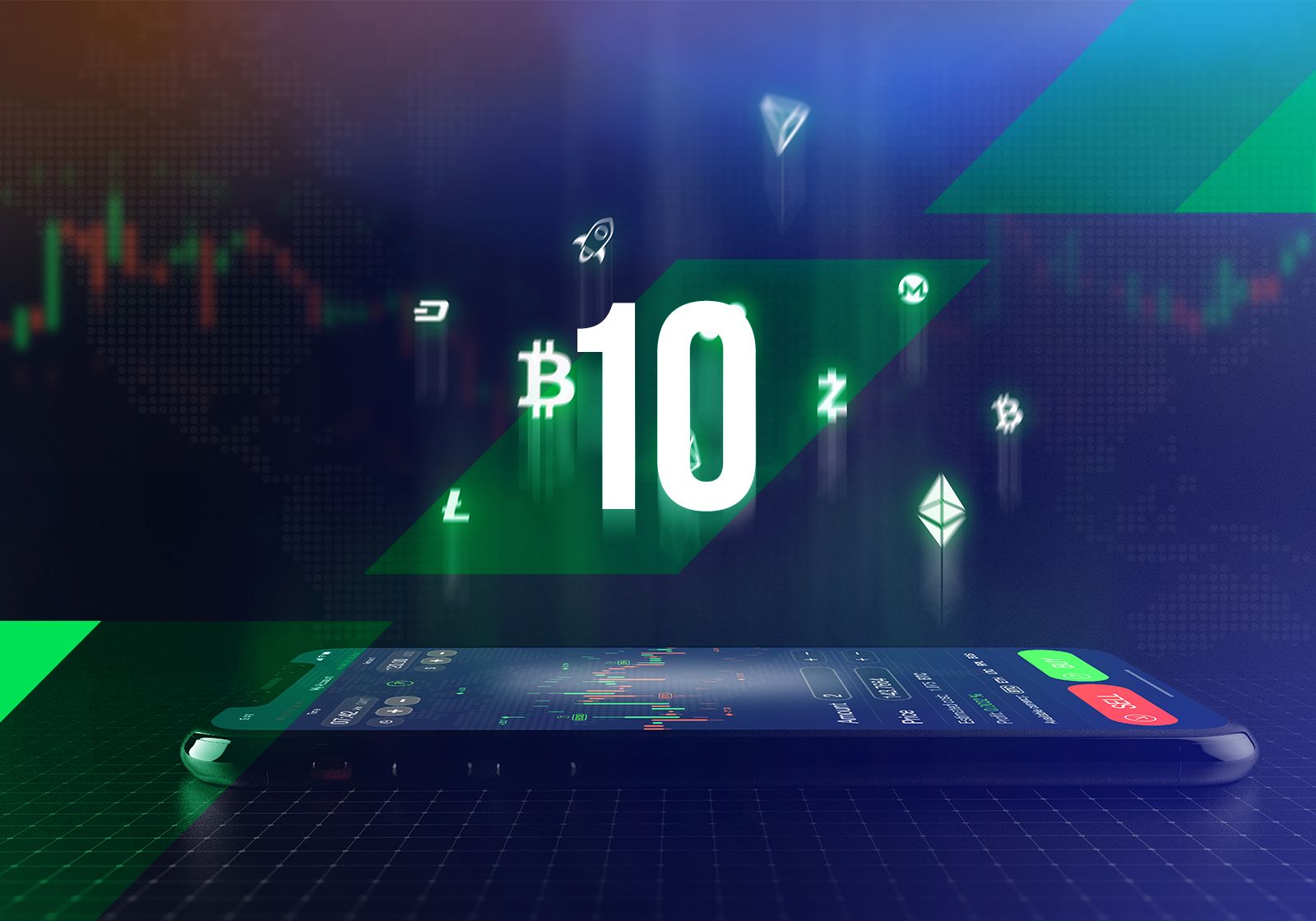 The currency exchange market is an established way for keen traders to make money, but the rise of cryptocurrencies have made it even more exciting! The novelty of cryptocurrencies and high increase in value of bitcoin and altcoins mean that traders can make huge gains exchanging crypto coins.
You no longer need to be a tech geek to trade in crypto. There are multiple cryptocurrency exchange platforms that allow you to do this online. All of them differ in important points. The ideal cryptocurrency exchange should offer low fees, high multipliers, and a range of coins for a diverse portfolio. The ability to easily buy new crypto coins with fiat currency is also very important. 
To find out which cryptocurrency exchange is the overall best for traders, we take a look at the top 10 most popular crypto exchange platforms and compare key points:
1. Binance

We start with the world's largest cryptocurrency exchange, Binance. A popular mainstream platform, Binance encourages users to collect its own coin, the Binancecoin (BNB) which comes with a discount on crypto-to-crypto payments. Having said that, Binance offers over 140 cryptocurrencies including bitcoin, bitcoin cash, bitcoin gold, ethereum, ethereum classic, EOS, DASH, Litecoin, NEO, GAS, ZCash, Ripple and many more. Exchanging these coins comes with a 0.1% fee.
Binance also introduced SAFU (Secure Asset Fund for Users), which takes 10% of all trading fees the exchange earns, to give back to the users in the event of a hack. This came into play when the company was hacked in May 2019, and users were paid back for the hacked funds.
While popular, Binance is somewhat limited for margin trading, with its 125x multiplier being more limited than competitors. Its tiered system of 'basic' and 'advanced' traders can also feel limiting or too complex for new users.
2. Kraken

Kraken, founded in 2011 by Jesse Powell, is not a dedicated cryptocurrency excange as it also facilitates fiat currency exchange e.g., euro, yen, USD, pound, etc. Kraken supports over 17 cryptocurrencies including bitcoin, bitcoin cash, bitcoin SV, cardano, DASH, dogecoin, EOS, ethereum, ethereum classic, litecoin, monero, ripple, tether, Zcash and many more.
Although it offers high liquidity and interesting fiat options, users should take care with fee variation, that can range up to 0.26%. Kraken has also received criticism from users for having an unintuitive UI, being slow to process transactions, and arbitrarily closing accounts with explanation. Margin trading is also limited to 5x leverage.
3. BitMex
Headquartered in Hong Kong, BitMex, i.e., Bitcoin Mercantile Exchange is one of the top bitcoin exchange platforms globally. As the name suggests, it is focused on bitcoin, the dominant cryptocurrency by market share. Other supported coins include bitcoin cash, cardano, ethereum, litecoin, EOS and ripple – but be warned, trading conditions for altcoins are often less favorable than with bitcoin.
Although BitMex offers leveraged contracts and margin trading, its narrow focus on bitcoin holds it back for traders who wish to have a more diverse portfolio. In addition, BitMex is not available in the US, and as such does not accept US-based payments.
4. Huobi
Huobi was founded in China and supports a huge number of cryptocurrencies – around 250! Huobi operates two different platforms: Huobi OTC (trade cryptocurrencies with fiat currencies) and Huobi Pro (with more advanced trading capabilities). Fees are low but variable, depending on trading volume.
Huobi is popular, but it is focused on the South-Asian market with limited development in other regions served by the global version. This may be to avoid regulatory oversight or consumer scrutiny – Huobi has previously been accused of falsifying trading volumes.
5. Bybit
Bybit is a relatively new cryptocurrency derivatives trading platform, being established only in March 2018. It is headquartered in Singapore and has offices in Hong Kong and Taiwan. Nonetheless it serves clients all over the world and offers 24/7 support in different languages.
Available trading pairs on Bybit include BTC/USD, ETH/USD, XRP/USD and EOS/USD perpetual contracts. It's worth noting that only BTC can be traded with 100x leverage. Other pairs can only have 50x. It is also not possible to deposit fiat currency to trade on the platform.
6. Deribit
Deribit is an exchange platform that offers European fiat currency as well as bitcoin futures with 100x leverage. It also has risk management features that liquidate accounts with higher maintenance than equity in small steps.
The Deribit BTC index pulls prices from other exchanges and averages them out to find its current value. Fees are around 0.25% but liquidation fees are higher. Deribit charges for withdrawals and they can take more time than with other exchanges. This is because, for security reasons, Deribit keeps most crypto assets in cold storage.
7. Coinbase Pro
Coinbase Pro is an established name with some strong official backing. The USA-based firm was founded in 2012, making it one of the earlier cryptocurrency exchange platforms. One main advantage of this is that it is insured by the New York Stock Exchange and Andreessen Horowitz, and fully regulated in the United States.
Supported coins include BTC, ETH, BCH, LTC, ETH, ZRX, and BAT and there is a wide range of trading features available. Coinbase Pro still isn't great for traders who want to trade in a variety of altcoins, however.
While you can instantly buy cryptocurrency with a credit card, purchases made with bank transfer can take up to 5 days to complete. There is also concern that Coinbase may be tracking how and where you spend your crypto.
 
8. Bitstamp
Another of the early crypto exchanges (founded in 2011), Bitstamp is based out of Slovenia, but also has offices in both New York and Luxembourg. It is a licensed exchange with Luxembourg's Ministry of Finance. The verification process for Bitstamp is long and not too convenient, requiring submission of a photo ID.
Bitstamp fees start relatively low (0.05% for international wire transfer, 0.09% on international withdrawals), but its fee system is complex, and unless you trade high amounts, can be as high as 0.075%. Unfortunately, using a credit card on Bitstamp incurs quite high fees (around 8%) for the industry.
Available currencies for cash deposits and withdrawals on Bitstamp include USD, EUR, bitcoin, litecoin, ethereum, ripple or bitcoin cash.
9. Bittrex
Bittrex is a security-focused cryptocurrency exchange based in the United States. It lists over 190 cryptocurrencies for exchange. Only crypto-to-crypto trades are allowed, and trades are processed very quickly.
Users can have two types of accounts. The basic account allows withdrawal of funds up to 3 bitcoins per day. The advanced account enables withdrawal of funds up to 100 bitcoins per day. To withdraw earnings from Bittrex, users need to submit a valid identification document as well as a mobile phone number for authentication.
Bittrex users set their own price in which they wish to trade. On top of that Bittrex charges a flat 0.25% of every single trade as a service charge. Bittrex has a good reputation for security but has been criticized for poor customer service in the past.
10. StormGain
Inspired by the desire to make cryptocurrency trading simpler and more profitable for everyone, StormGain offers a cutting edge platform for trading future cryptocurrency contracts. Designed to give you opportunities in both rising and falling markets, StormGain's standout feature is that you can trade with the most popular cryptocurrency pairs with an unrivaled multiplier of up to 200x. It has also been rated as offering the best interest rate for investors.
In addition, StormGain can boast free swap for daily trades, an intuitive app and 24/7 customer support in several languages. Fees are low and transparent, without trying to catch users with special conditions. There are also no fees for deposits or withdrawals. The main assets are bitcoin, bitcoin cash, litecoin, etherium, ripple, and USDT.
StormGain is easy to use and register with – it's possible to sign up and start trading within seconds. It's also easy to buy new crypto assets with a credit card. Everything is secured via 2-factor authentication and the use of cold wallets for storage.
StormGain has the best conditions on the market
Overall, StormGain offers the best balance of conditions for trading cryptocurrency. The fees are low but most importantly, structured to be easy to understand for beginners and experts alike. The 200x multiplier is also a deciding factor – ultimately, it allows clients the greatest reward for their risk. You can even directly compare up-to-date fees and leverage with competitors.
Aside from ease of registration. StormGain also offers extensive guidance including in-app trading signals and an education program by in-house financial experts.
If you'd like to see for yourself how StormGain measures up to the competition, then try it completely risk free with a demo account of 50,000 USD in assets. Or register now and enjoy trading with 200x multiplier!
Tags
Exchange BTC

Try our Bitcoin Cloud Miner and get additional crypto rewards based on your trading volume. It's immediately available upon registration.

Try our Bitcoin Cloud Miner and get additional crypto rewards based on your trading volume. It's immediately available upon registration.