Free Ethereum (ETH) Wallet
Register in 5 seconds and easily operate funds on your wallet: deposit, exchange, withdrawal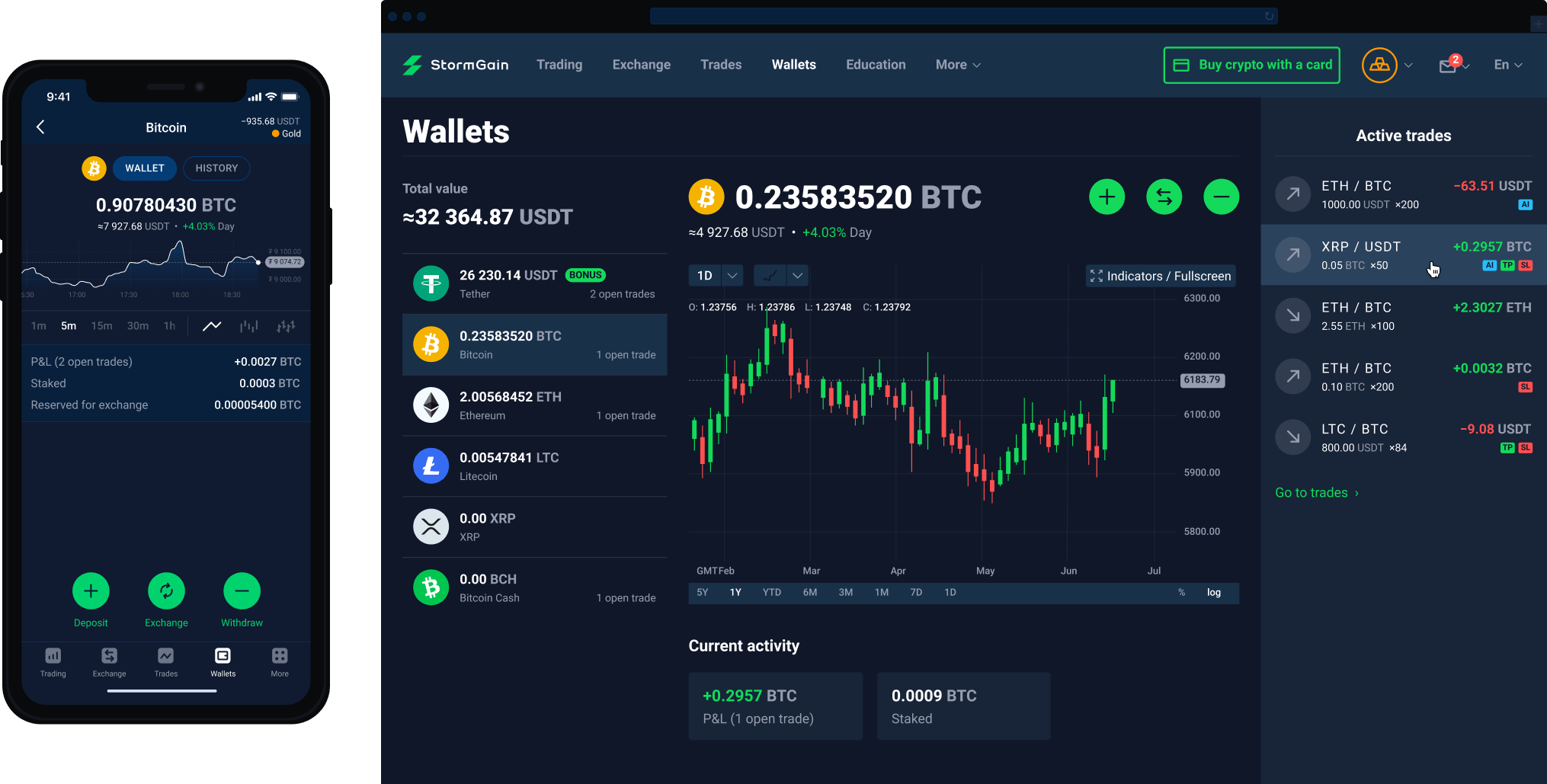 StormGain's ETH Wallet
StormGain's built-in multi-currency wallet provides a simple way to secure, manage and exchange your funds whenever and wherever you want. All you need to do is to register and deposit your assets!

Full crypto options
Whether you're looking to exchange, hodl or transfer your assets, StormGain's crypto wallets let you do just that with its built-in tools.

Available 24/7
Access your wallet 24/7 worldwide from any device.

Top-level security
Rest assured with industry-leading security protocols and strong encryption.

Absolutely free
StormGain's built-in wallet is completely free of charge.

Exchange Tokens in Wallet
Hedge your portfolio by exchanging your coins for Gold and Silver tokens in your wallet.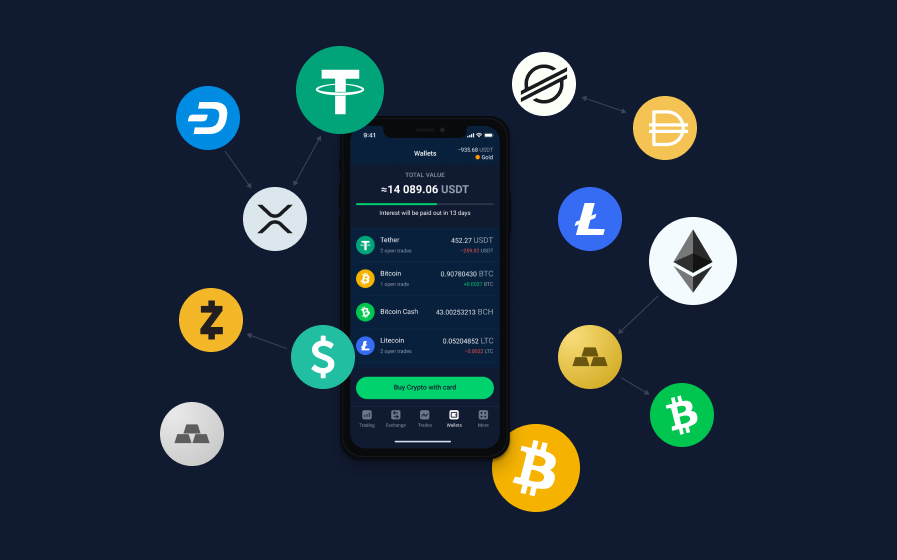 Your Digital Assets in One Place
You have a quick access to all of your crypto assets — BTC, ETH, BCH or any other.
Cold wallet for Ethereum
The most popular cryptocurrencies wallets: we have selected the best for you. Easy purchase and reliable storage of real cryptocurrency
How do I register an Ethereum wallet?
As a StormGain client, setting up an Ethereum wallet is a breeze. In fact, you don't really have to do anything. That's because the company automatically provides its clients with their own ETH cold wallet as soon as they register an account. Naturally, this is a huge advantage over other platforms that require you to create your own. With StormGain's in-app wallets, you can avoid all the import errors, checksums or tedious synchronisations that come with third-party wallets. Nice, right?
What devices does the crypto wallet work on?
Generally speaking, the point of online wallets is that they're accessible while also sufficiently secure. As such, most people opt to store them on their smartphones. While this will never be as secure as a hardware ledger, it can still provide reasonable security (if you set up two-factor authentication and use a strong, unique password). StormGain clients can rest easy knowing that their wallet is safely stored behind industry-leading encryption, while also enjoying easy access to their funds.
How do I download an ETH wallet?
These days, it's very common for people to download their wallets on their phone or computer. All you have to do is download and install the StormGain app. You'll then have direct access to your wallet through the app. From there, you can take advantage of the StormGain exchange/trading platform to buy and sell ETH at your leisure. Simples.
What is the best way to add funds to my wallet?
When it comes to topping up your StormGain ETH wallet, you have several options. If you already own crypto, you can exchange it for Ethereum with us for a commission of just 0.25%. Alternatively, you can choose to purchase Ethereum instantly using your debit or credit card. Then, when you've bought your crypto, it'll go straight into your StormGain ETH wallet. With StormGain, fiat purchases are easy, convenient and super quick.
How can I make 10% profit on my deposits?
Well, if you're simply buying cryptocurrency and adding it to your own wallet, your profits/losses depend entirely on your own trading performance. You may well be able to make 10% or even more by trading your crypto on the open market…but you could just as easily lose it all, too. With StormGain, things are a lot more certain. That's because StormGain pays its clients annual interest of 10% on all their digital deposits. Guaranteed.
What advantages does StormGain's Ethereum wallet offer?
StormGain offers its users much more than the competition in practically every area. From the convenience of our free in-app wallet to incredible interest on deposits, StormGain is constantly setting itself apart from the alternatives. The added benefit of instant credit/debit card purchases at a reasonable price makes it even more attractive to potential crypto investors. And because StormGain wallets are integrated, it doesn't matter whether you're on Linux, Windows, iOS or Android. Join StormGain now and enjoy some of the best terms around when it comes to buying and storing your Ethereum!
Download the ETH Wallet Now!
Enjoy quick access to all of your crypto assets — BTC, ETH, BCH or any other — stored in one place.