Free Litecoin (LTC) Wallet
Register in 5 seconds and easily operate funds on your wallet: deposit, exchange, withdrawal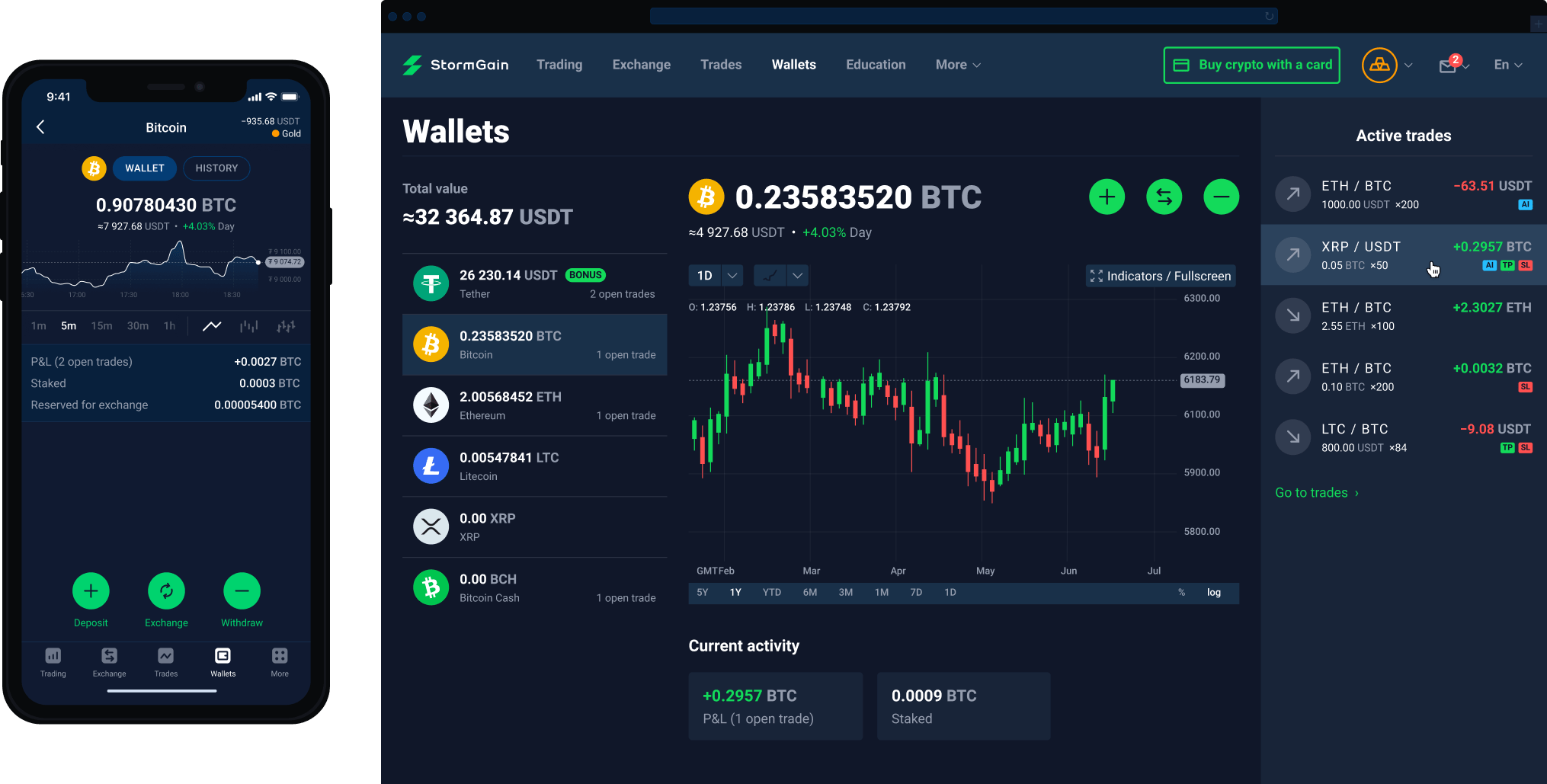 StormGain's LTC Wallet
StormGain's built-in multi-currency wallet provides a simple way to secure, manage and exchange your funds whenever and wherever you want. All you need to do is to register and deposit your assets!

Full crypto options
Whether you're looking to exchange, hodl or transfer your assets, StormGain's crypto wallets let you do just that with its built-in tools.

Available 24/7
Access your wallet 24/7 worldwide from any device.

Top-level security
Rest assured with industry-leading security protocols and strong encryption.

Absolutely free
StormGain's built-in wallet is completely free of charge.

Exchange Tokens in Wallet
Hedge your portfolio by exchanging your coins for Gold and Silver tokens in your wallet.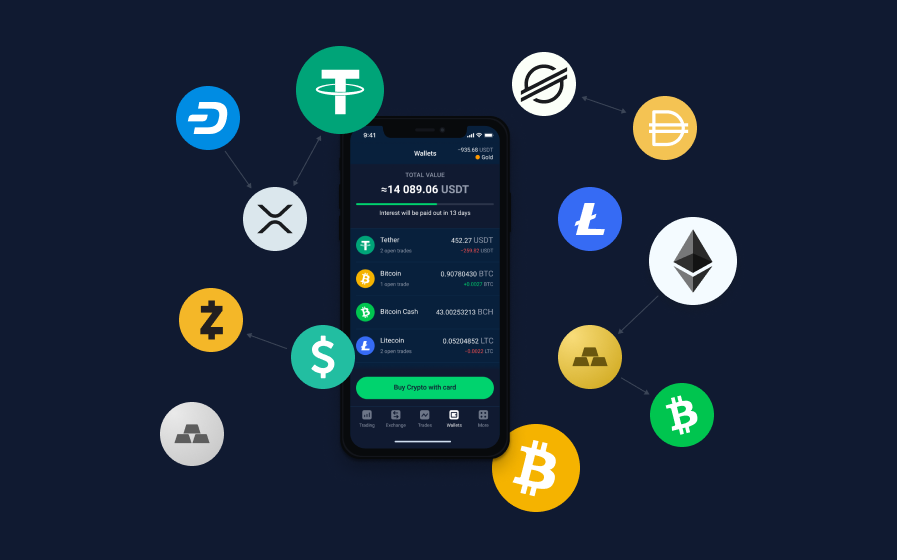 Your Digital Assets in One Place
You have a quick access to all of your crypto assets — BTC, ETH, BCH or any other.
Cold wallet for Litecoin
The most popular cryptocurrencies wallets: we have selected the best for you. Easy purchase and reliable storage of real cryptocurrency
How do I register a Litecoin wallet?
When you're a StormGain client, getting a Litecoin wallet is a doddle. All you have to do is register your account. StormGain will create one for you automatically. Other platforms' users aren't quite as lucky, with many having to set up their own with third-party providers. With StormGain's in-app cold wallets, you can rest easy knowing you won't have to deal with any tedious checksums or synchronisations yourself. Easy-peasy!
What devices does the crypto wallet work on?
Typically, people go for online wallets because they're looking for ease of access without compromising too much on security. For convenience, many decide to store their wallets on their mobile phone. While smartphones can't offer the same level of protection as a hardware wallet, two-factor authentication and a strong, unique password will provide plenty of security. StormGain's industry-leading encryption means our clients get to enjoy both peace of mind and easy access to their funds.
How do I download an LTC wallet?
Want to download your wallet to your phone or computer? As a StormGain customer, all you have to do is download the StormGain app on the device of your choice. Yes, that's really all there is to it. Once installed, your wallet will be directly accessible through the app. Then, you can use the StormGain platform to trade LTC however you like.
What is the best way to add funds to my wallet?
If you'd like to fund your StormGain LTC wallet, there are a few methods available to you. For those of you who already own crypto, our flat-rate commission for exchanging it for Litecoin is just 0.25%. Another option is to use your debit or credit card to buy LTC instantly in the app. Once you've made your payment, the LTC will be immediately credited to your StormGain wallet. When it comes to fiat purchases, nobody can beat us on speed and convenience.
How can I make 10% profit on my deposits?
When you buy crypto with the intention of trading on the open market, your profit is subject to a lot of volatility. While it's true you could make 10% or more trading, there's also a chance you could walk away with nothing. Unless you're a StormGain client, that is. Why? Well, StormGain pays 10% APR on all client deposits, so you can always count on earning something.
What advantages does StormGain's Litecoin wallet offer?
You'd be hard-pressed to find another service that can rival StormGain. From the convenience of our free in-app wallet to incredible interest on deposits, StormGain is miles ahead of the competition. And with instant credit/debit card purchases at fair prices, new crypto investors will struggle to find a better offer elsewhere. Finally, StormGain's integrated wallet means you can access your LTC wallet from almost any device, whether it's Linux, Windows, iOS or Android. So why not join StormGain today and start enjoying some of the best terms around?!
Download the LTC Wallet Now!
Enjoy quick access to all of your crypto assets — BTC, ETH, BCH or any other — stored in one place.