Free Stellar (XLM) Wallet
Register in 5 seconds and easily operate funds on your wallet: deposit, exchange, withdrawal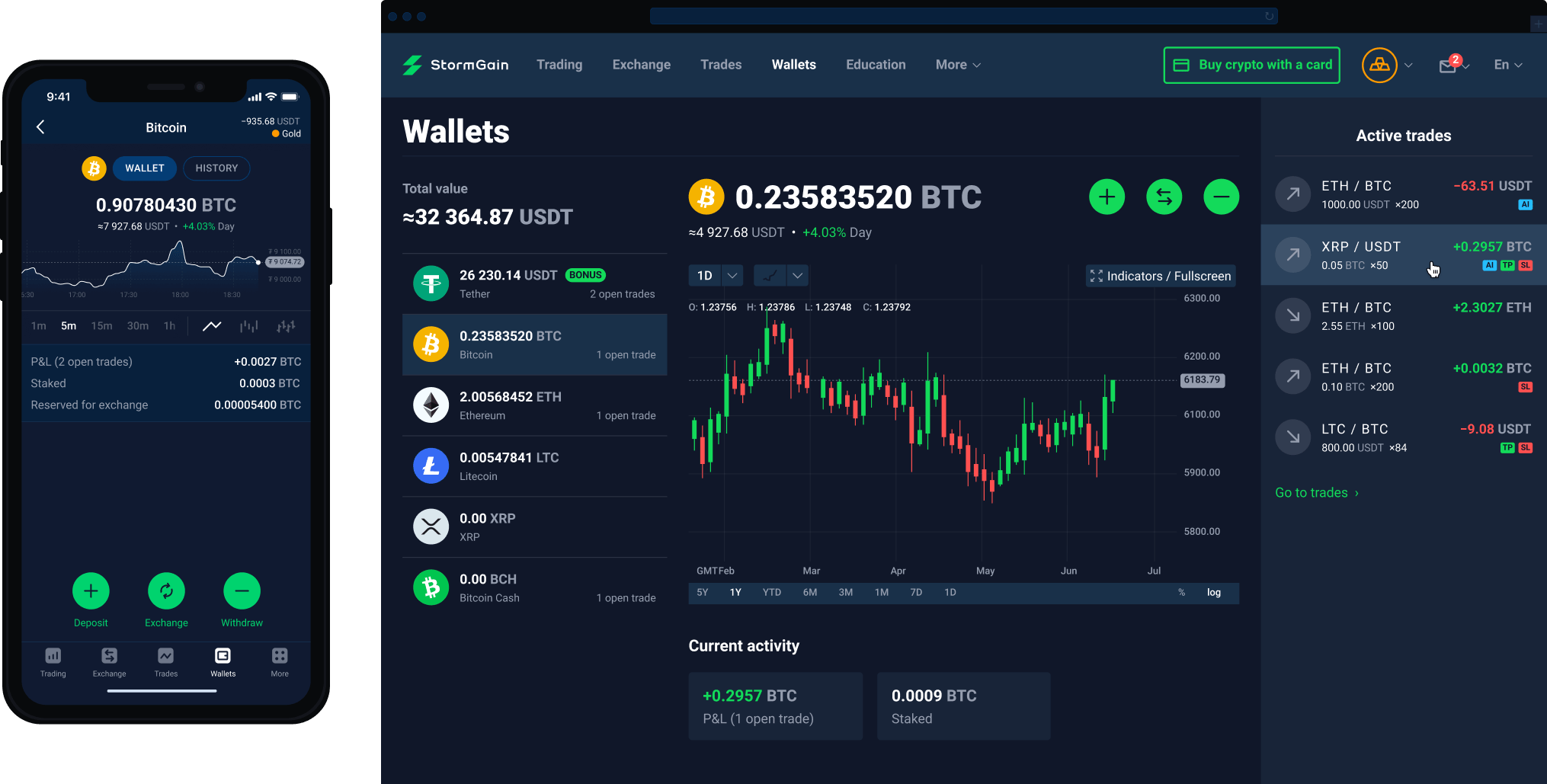 StormGain's XLM Wallet
StormGain's built-in multi-currency wallet provides a simple way to secure, manage and exchange your funds whenever and wherever you want. All you need to do is to register and deposit your assets!

Full crypto options
Whether you're looking to exchange, hodl or transfer your assets, StormGain's crypto wallets let you do just that with its built-in tools.

Available 24/7
Access your wallet 24/7 worldwide from any device.

Top-level security
Rest assured with industry-leading security protocols and strong encryption.

Absolutely free
StormGain's built-in wallet is completely free of charge.

Exchange Tokens in Wallet
Hedge your portfolio by exchanging your coins for Gold and Silver tokens in your wallet.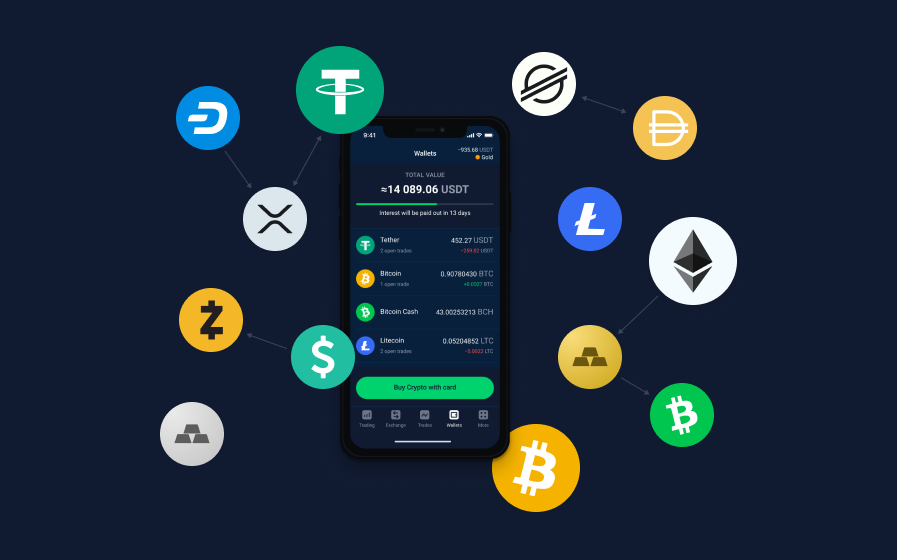 Your Digital Assets in One Place
You have a quick access to all of your crypto assets — BTC, ETH, BCH or any other.
Cold wallet for Stellar
The most popular cryptocurrencies wallets: we have selected the best for you. Easy purchase and reliable storage of real cryptocurrency
How do I register a Stellar (XLM) wallet?
At StormGain, we make your life easier so you can focus on trading. The StormGain Stellar wallet is already integrated into the platform, so you don't need to download it or go through lengthy processes to access it. All you need to do to access it is have previously created your StormGain account. When you log in, you'll have your Stellar wallet and eight others enabled for the major cryptocurrencies on the market. It's that easy, safe and fast to start trading crypto with StormGain.
What devices does the crypto wallet work on?
At StormGain, it's important to us that you can control your finances in the easiest and most accessible way possible. That's why our multi-device platform lets you access your account from your phone, tablet or desktop without any complications. Just search for our app on Google Play, Huawei AppGallery or the Apple Store. That gives you 24/7 secure access to your XLM wallet and the entire crypto world from anywhere.
How do I download a Stellar wallet?
You don't need to download the XLM wallet. One of our advantages is our platform's in-app feature accessed through registration. If you want to start trading immediately without going through long, complicated processes, download StormGain today and start mastering the crypto world.
What is the best way to add funds to my XLM crypto wallet?
Adding funds to your Stellar wallet is effortless. First, create your StormGain account. Then, go to the wallet section select 'deposit' next to the Stellar wallet. After that, you can use your bank card to add funds to your account quickly and securely. Start trading today, efficiently and securely, with all the benefits StormGain has to offer.
How can I make a 10% profit on my deposits?
StormGain pays you an annual interest of 10% on all your digital deposits on your cryptocurrency wallet. Regardless of whether you trading results are positive or negative, we guarantee this interest in your crypto wallet for your security. Discover the benefits of our loyalty programme, which will undoubtedly make your trading more convenient, with all the help you need to achieve success.
What advantages does StormGain's Stellar wallet offer?
One of the advantages of the multi-currency crypto wallet is that it's already integrated into the platform and free of charge. Wallets are protected by two-factor authentication and industry-leading security protocols, so you never have to worry about your funds. 
Sign up for StormGain today and get access to 9 cryptocurrency wallets at no cost. Enjoy an immersive, powerful, all-in-one platform made for you.
Download the XLM Wallet Now!
Enjoy quick access to all of your crypto assets — BTC, ETH, BCH or any other — stored in one place.